X-Avenger
Your day to save the world has come! in addicting X-Avenger Game
System Requirements
OS: Windows ME/2000/XP/VISTA
CPU: 600MHz or faster Processor
RAM: 128 MB
DirectX: 6.0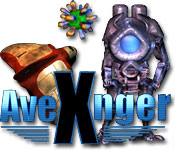 X-Avenger Game Description
Orion invaders have reached our peaceful planet! It is your mission to counter attack them. To aid you in your mission, the leaders of earth have given you X-Avenger, a cutting-edge hi-tech spacecraft. Blast your enemies with tons of missiles and energy-based weapons. The peace of all humanity rests in your hands!
X-Avenger full version features include:
3 marvelous worlds, each with unique monsters.
7 unique primary weapons, each with 5 upgrades.
15 different secondary weapons.
X-Avenger Game Customer Reviews
You must try this game, I think it was one of the best shooter games I have played yet. This game was well done A+ I wish they could make more of this type of games.

- by 7714jerry
Nice Shooter, cool graphics. Pro: not just a shooter, the mission to close the vortex is nice. Contra: weapon system is bad, to few choosable, upgrade only for a small amount of time. and really too many confirmations to exit the game.

- by dessfreak
Good game. I don't usually go for "shooter" types but this is well done. Would like to had a longer time on the demo. It was a little complicated to learn the steps. Otherwise liked it.

- by doccat5
Related Games
If you like X-Avenger game, you may also like...