Artist Colony
Explore the neglected canvas of a once thriving utopia of artists. in addicting Artist Colony Game
System Requirements
OS: Windows XP/Vista
CPU: 800 Mhz
RAM: 256 MB
DirectX: 6.0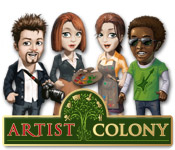 Artist Colony Game Description
Explore the neglected canvas of a once thriving utopia of artists C the most pioneering creators of their time. Complete tasks and chores to transform the colony and inspire artists to return to this sanctuary of creativity. With specializations in sculpture, dance, music and more, it's up to you to guide each individual as they practice their craft, deepen their skills and create masterpieces in their chosen fields. Guide their relationships, face rivals and uncover the mystery behind the original colonists and their hasty departure.
Artist Colony full version features include:
Intriguing game concept.
Lengthy story with many characters and masterpieces to unlock.
Good pacing, well-balanced and full of personality.
Attractive graphics.
Artist Colony Game Customer Reviews
... this surprisingly deep and enjoyable game is well worth your time and money, especially if you're a fan of people simulations. The unique concept is well-designed and successfully executed, and should provide many engaging hours of fun.

- by Gamezebo
I loved this game, and I haven't even finished the trial yet! The graphics and music are beautiful. This game is a lot like virtual villagers, except the concept is different, the characters are more lovable and fun, and if you decide not to play the game for a day, your colonists don't die! So far I think this is one of the best games of the year. I will defenitly be buying it after it comes out on BFG or PF. I highly reccommend Artist Colony.

- by SkaterCody
I really enjoyed this game! I really liked the concept since it makes it a little different from other village type games. There was plenty of interaction and events to keep me busy throughout. The game ended sooner than I would have liked, even though you can technically keep playing without goals. The little artists were cute and I really enjoyed how the singers sang blues when they had heartbreak!

- by artsyshell
Related Games
If you like Artist Colony game, you may also like...