Leah's Tale
The world of Estis awaits you... in addicting Leah's Tale Game
System Requirements
OS: Windows XP/Windows Vista/Windows 7
CPU: 600 Mhz
RAM: 128 MB
DirectX: 9.0
Hard Drive: 75 MB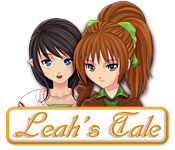 Leah's Tale Game Description
In a quiet little village theres a party planned and one young girl has a big birthday treat in store for her. With her family and friends about her Leah stands no chance of knowing how this day will transform her life forever. From land, to deep underground, to the clouds high above Estis you can adventure with Leah as she makes startling discoveries about herself, her identity and the true nature of those around her.
Explore new villages, meet both familiar and new faces, make new friends and join a story that is far bigger than would ever have been realised at first. With dozens of side quests, so many secrets and treats to uncover C the world of Estis awaits you!
Leah's Tale full version features include:
Chose from four game modes (Story, Easy, Normal or Hard)
Multiple endings
Dozens of side quests
Many secrets and treats to uncover
Leah's Tale Game Customer Reviews
I greatly enjoyed Leah's Tale and was soooo excited by the story and well everything, that I played it in one go. I'm looking forward to ___'s Quest, whoever it might be about. (Maybe Tesla, as she is still as mysterious as ever.) (Although I'd be happy to see Sakari and Areth as well) Thanks for the great game, Eridani and team!

- by slimmmeiske2
Really nice game the old fashion manor...and I had no bugs!! really refreshing.... For me the best game of the new year till now.

- by willi
I was part of the beta testing team for this game. The developers are knowledgeable and dedicated; it was a very professionally-done and awesomely fun game, even to play for the testing! If you like a good well-developed RPG story, with believable characters, mostly avoidable battles, some humor, and a decent game length in today's market, you will LOVE Leah's Tale!

- by oceanloverOH
This game is not a run of the mill RPG. It has simple gameplay that does not become dull and shorter dungeons that don't become boring. This leaves the player free to enjoy both gameplay and story without distraction. I especially appreciate the signposts. The character sprites are beautiful and the music engaging. The storyline is full of twists and turns, with surprises in store and a mystery for the game characters and the player. There is a fun, tongue-in-cheek section that is clearer to those in the know. ;-) The game is a prequel to an earlier game, which adds an extra layer of interest. You can play Leah's Tale first, as the games are standalone. Well thought out and enjoyable. One of the few games that I may play again.

- by GailFP
Related Games
If you like Leah's Tale game, you may also like...