Aveyond 4: Shadow of the Mist
The 4th title in the popular Aveyond RPG series! in addicting Aveyond 4: Shadow of the Mist Game
System Requirements
OS: Windows XP/Windows Vista/Windows 7/Windows 8/Windows 10
CPU: 1.0 GHz
RAM: 256 MB
DirectX: 9.0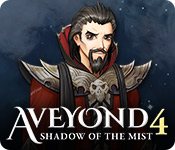 Aveyond 4: Shadow of the Mist Game Description
Boyle Wolfbane wanted to rule the world. He failed. Miserably. Forced into retirement early, Boyle now spends his days arguing with haunted trees and scaring off the occasional knight. At least he still has Fang, his loyal storm wolf. Things could be worse. He could have been born a hero. Features include a sophisticated battle and menu system. There are also many things to squash, burn, and collect. And... You. Will. Laugh. (Unless you are a zombie, in which case, we cannot help you.)
Aveyond 4: Shadow of the Mist full version features include:
Recruit minions and join a coven
Take part in a night watch and discover mist portals
Transform friends into creatures
Aveyond 4: Shadow of the Mist Game Customer Reviews
Boyd, the hero/villian of the story just wants to save his dog Fang, but his quest will take him to some unexpected places...Plenty of nods to the earlier Aveyond games here but Aveyond 4 also works well as a stand-alone game, if you haven't played any of the others. A strong storyline with plenty of side quests, lovely music and picturesque visuals too. Best of all, a team of interesting characters and plenty of snarky dialogue! If you're an RPG fan - or even if you're not - Aveyond 4 won't disappoint.

- by clockwork_daisy
This is a nice addition to the Aveyond series. It's a stand-alone but does give a few nods to the previous games in the series. It's an interesting story about an unwilling hero (former villain) and his search for his dog. It looks like this game is quite big as I've been playing for a few hours and I've only scratched the surface. The dialogue is well written and humorous. If you like RPGs then you'll probably like this game.

- by narnian
I have played all the Aveyond games and have loved them all. They have hours of play and are well written and fun. They are also clean and I have no qualms about my children watching or playing them. This latest game is just as good as all the others. I wasn't sure about it at first as it is a little different platform and the main characters are retired villains, but I have loved it. It has quite a bit of humor and it is fun to watch the characters try to remain villains while they are being heroes and saving the world. I look forward to more games by this developer. They are among my most favorite games.

- by epspotter
Related Games
If you like Aveyond 4: Shadow of the Mist game, you may also like...