Aveyond: The Darkthrop Prophecy
Stop The Darkthrop Prophecy! in addicting Aveyond: The Darkthrop Prophecy Game
System Requirements
OS: Windows XP/Vista
CPU: 1.0 GHz
RAM: 256 MB
DirectX: 9.0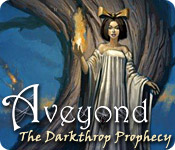 Aveyond: The Darkthrop Prophecy Game Description
Mel has gone into hiding after she discovers she can use magic. To make matters worse, wicked creatures called Darklings keep popping up, convinced that Mel is the prophesied one who will build a dark empire for them. Edward, her best friend, eventually finds her hiding in the village of Harakauna and has brought help! Can Mel learn how to use her magical powers for good? Find out in Aveyond: The Darkthrop Prophecy, a fun Strategy game!
Aveyond: The Darkthrop Prophecy full version features include:
Incredible quests
Stop The Darkthrop Prophecy!
Aveyond: The Darkthrop Prophecy Game Customer Reviews
This is the 4th in the Aveyond series, and I find it to be different in ways. Mel basically starts without any equipment, and at Level five if you "import" it from the last game. But that soon changes. ( For those of us that also play Millennium, this was unexpected. ) I've not experienced any problems with it so far either. (Bugs)

However it is a good game as the others have been, and interesting. Some puzzles to solve that are not too difficult, and some that you may need help on. You will recognize places and characters from the last game, and so we have continuity.

I've been enjoying this game. It has many surprises, and is lots of fun. Worth the money. It just gets better as you get further into it. My opinion anyway.

- by SueDee
This game is absolutely terrific. I've played the other three previous parts of Mel's story several times and I waited impatiently for this one to come out. I wanted to finish the game before I gave my opinion, and it took a good long time to finish because it's quite long! I love some of the new features they put in the game, with the characters being split into two different parties and with new ways for Edward and Stella to progress and learn spells.

Like all the other Aveyond games, The Darkthrop Prophecy is a fantastic value for its price with lots of replayability, and I know I'll be replaying this one in the future.

- by Silvergirl
Related Games
If you like Aveyond: The Darkthrop Prophecy game, you may also like...