Aveyond: Lord of Twilight
Stop an evil vampire lord from plunging the world into darkness and enslaving humanity! in addicting Aveyond: Lord of Twilight Game
System Requirements
OS: Windows XP/Vista
CPU: 600 Mhz
RAM: 128 MB
DirectX: 6.0
Hard Drive: 72 MB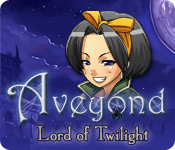 Aveyond: Lord of Twilight Game Description
Solve dozens of adventure puzzles and explore an enchanting world! Aveyond: Lord of Twilight is packed with monsters, magic, and humor. Stop an evil vampire lord from plunging the world into darkness and enslaving humanity. Explore lush tropical forests, arid deserts, mystical woodlands and more. Soar to dizzying heights and descend to the depths of the Underworld in this awesome RPG adventure!
Aveyond: Lord of Twilight full version features include:
Solve dozens of quests
Choose your difficulty level
Explore dozens of lands
Raise pets and collects eggs
Aveyond: Lord of Twilight Game Customer Reviews
aveyond III:- U cannot imagine a better RPG game than this! It's just like a perfect rpg game ever made! well, if we see the graphics and the new features are great and ofcourse the storyline- its just AMAZING!!! u can't expect anything better. it's a MUST PLAY RPG GAME.

- by ujwal
I am not a big fan of casual games. I am more of a hard core gamer. But this game seems to be suitable for both casual and hard core games fans. The dialougs in this game are witty and funny. Made me literally laugh, more than once. The game was not too difficult, but also not too easy. I needed help only once in getting to the next place, but apart from that, I was able to get through the game all by my own. I loved the characters, they were really fun to follow, especially mel. Which is not your typical hero. Bottom line, I recommend everyone to at least try this game.

- by Sargon
The more I play the more I like AV3 (I'm in 9th hour). Beautiful story, characters, music and graphics. I liked it much better than AV2, but have to play more to decide if it's better than AV1 and Ahriman's Prophecy. I also think chapter idea is great and I'm looking forward to the next one. Very well done Amaranth team, thanks for another great RPG:)

- by tekirpitir
Related Games
If you like Aveyond: Lord of Twilight game, you may also like...