Bipo: Mystery of the Red Panda
Unmask a cloaked bandit that's on the loose! in addicting Bipo: Mystery of the Red Panda Game
System Requirements
OS: Windows 2000/XP/Vista
Memory: 128 MB
CPU: P3 800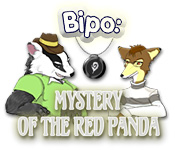 Bipo: Mystery of the Red Panda Game Description
What starts out as a routine trip to the cupcakery turns into a full on investigation for a ghost in a deserted manor. Discover the secret behind a mysterious object, and unmask a cloaked bandit that's on the loose! Can you help Bipo discover the secret behind the ghost in the dark manor? Lead him from one adventure to the next, playing dozens of puzzles and activities!
Bipo: Mystery of the Red Panda full version features include:
Discover The Secret Behind The Manor Ghost!
Dozens Of Puzzles And Activities!
Unmask A Cloaked Bandit!
Very Family Friendly!
Bipo: Mystery of the Red Panda Game Customer Reviews
This game is a lot like all the Aveyond ones! It used to frustrate me because I couldn't get any money, but then, I found out how it worked. I love it! It is very cute having the main character as a panda. This is a really great game!

- by catgirll
Bipo: Mystery of the Red Panda is a fun game that combines two types of casual games genres, puzzle and adventure game. The combination makes for a fun game and broadens the appeal of the game. Anyone interested in puzzle or adventure games will find Bipo: Mystery of the Red Panda fun to play.

- by casualgamerchick
Related Games
If you like Bipo: Mystery of the Red Panda game, you may also like...