The Nightshift Code
Discover, decode and delight with hidden treasures and locked puzzles! in addicting The Nightshift Code Game
System Requirements
OS: Windows XP, Windows Vista
Memory: 128 MB
DirectX: 7.0 or later
CPU: P3 700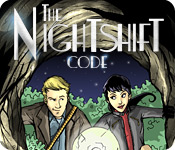 The Nightshift Code Game Description
Discover, decode and delight with hidden treasures and locked puzzles! The Nightshift Code is a hidden object adventure game that will take you on a mysterious, and sometimes dangerous, journey from an ancient history museum in Chicago all the way to a secret location in the Greek Isles! Search for hidden objects and piece together clues to unlock challenging puzzles, ultimately digging for a lost treasure! It's all there waiting for you in The Nightshift Code!
The Nightshift Code full version features include:
A Fantastical Seek And Find Treat!
6 Challenging Chapters, Full Of Mystery!
Arcade Mode With Hundreds Of Hidden Objects!
Multiple Layered Scavenger Hunts!
The Nightshift Code Game Customer Reviews
It is hard to beat MCF, the developers of seek and find objects know it. Mortimer Beckett and the Secrets of Spooky Manor or The Scruffs go in a new direction to make it, and it's OK. In the case of The Nightshift Code, they try to make a game with some "differences", and well, it's a good game and of course I liked it, but I am still waiting for another s&f better than MCF. Try it.

- by Clever
A well done, fun, challenging HO game w/nice puzzles for mini-games. Puzzles are relevant to the story, which is nice. Great story line. One star off for some object ambiguity and some items being way too hard to find. Overall, one of the better HO games I've played.

- by arcadiarose
It was interesting- not just another seek and find. The premise was good, the puzzles not to easy. I'll have to think about it, but this may actually be one worth buying! Note: take the time to look at the directions, because it isn't just another seek and find.

- by bpage3
Related Games
If you like The Nightshift Code game, you may also like...