Battleship: Fleet Command
It's the classic game of navel strategy! in addicting Battleship: Fleet Command Game
System Requirements
OS: Windows XP/Vista/7/8
CPU: 600MHz or faster Processor
RAM: 128 MB
DirectX: 6.0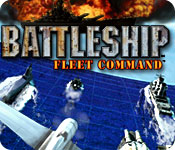 Battleship: Fleet Command Game Description
Station your fleet, and avoid detection by the opponent navy. There are two fleets at sea, but only one will survive. Fire strategically to locate enemy ships; once you've found a ship, fire to sink it. You'll be pulled into the action as canons fire with lifelike sound, and your radio indicates news of strike. Easy-to-understand board and vivid illustrations.
Battleship: Fleet Command full version features include:
5 modes of gameplay.
Simple interface, instant action.
Multiple fleet configurations.
Battleship: Fleet Command Game Customer Reviews
Finally! The PERFECT Battleship game that I've waited years for! Great sound and graphics. Jump right in and start playing in Battleship mode. In the "2nd game", Fleet Command, you get a more complex game, but the tutorial leads you thru it quite easily and you're in business quickly. I like having "2 games in 1". For a quick laid-back game, I play Battleship. If I want to put the thinking cap on and use torpedo nets, move my ships after they've been hit, and more, then I play Fleet Command. For anyone who has ever loved Battleship since they were a kid, this is the perfect game. My highest rating!

- by bluto1999
This is a really fun game, just like the old peg in hole version, only so much more realistic with great visual and sound affects to go along with the game. Its fun to see how many times you can beat the computer in the war games too. Play it and have a ball.

- by mrbill333
this game was way cool! my kids will love it even..if they can get me away from it! you have the option of regular battleship or fleet. i highly recomend the fleet game. your ships have specific things they can do, like radar or air craft! just an all around great fun game!

- by retro1lee
Related Games
If you like Battleship: Fleet Command game, you may also like...