Saints and Sinners Bingo
This game will have you in bingo heaven. in addicting Saints and Sinners Bingo Game
System Requirements
OS: Windows 2000/XP/VISTA/7/8
CPU: 600MHz or faster Processor
RAM: 128 MB
DirectX: 6.0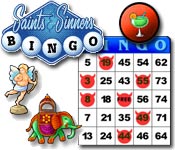 Saints and Sinners Bingo Game Description
Hilarious character dialogue and a catchy original soundtrack set the stage for this addictive bingo game with something for everyone. In Saints and Sinners Bingo, you play in 20 different cities across the country, competing alongside a colorful cast of opponents as you make your way to the International Bingo Championships. The special Good Luck Charms you'll collect along the way add a dash of strategy to a classic game of luck, giving you strategic 'moves' that improve your chances of winning! With 3 game modes and over 100 bingo patterns, Saints and Sinners will have you in bingo heaven.
Saints and Sinners Bingo full version features include:
Collect all 20 strategic lucky charms.
Play against a motley group of 30 characters.
Travel to 20 unique bingo venues across the country.
3 game modes and 2 paths to explore.
Saints and Sinners Bingo Game Customer Reviews
This is a very interesting game because you are playing Bingo with good and bad guys. If you help one of your opponents when they ask for your help they will give something like a drink or a piece of pie so later you can you can use those objects to win. If you like bingo you will like this game. You get to travel all over the United States without leaving your seat.

- by chitowngirl1
Excellent Bingo-type game. Takes an adventure format, in which you have to compete and travel on to other venues, which is more fun than just playing the same game repeatedly. This game mixes it up a bit, and also has the added feature of "charms" to use for your own good, or to use against your opponents. All around fun.

- by BeanieBaby
I really liked this game because I like to play bingo. It is fun how you get to play with different characters and they have good and evil people you can play with. I ran out of time just when I was going to bingo. That was the only thing that made me mad. I'm going to buy this game. If you like bingo then this is the game for you.

- by bw2007
Related Games
If you like Saints and Sinners Bingo game, you may also like...