Age of Mahjong
Match tiles in Age of Mahjong! in addicting Age of Mahjong Game
System Requirements
OS: Windows XP/Windows Vista/Windows 7/Windows 8
CPU: 1.0 GHz
RAM: 512 MB
DirectX: 9.0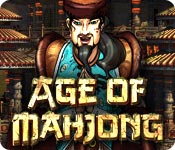 Age of Mahjong Game Description
Tile-matching gets an epic makeover in Age of Mahjong, a story-based adventure in which you build a magnificent Chinese city even as you tear down cleverly designed stacks of game pieces. Follow the story of an ancient Emperor and his wife as they struggle to undo a spell that cast their son in a deep sleep and labor to build a city that will stand as a shining beacon of Chinese culture. Learn the benefits of peace and harmony over war and violence as you match tiles, unlock bonus items by completing the corresponding layouts, and gather the resources you need to build your metropolis. With 56 levels in Story mode, a bonus game to unlock, and visuals and sounds that will sweep you away to an exotic land of ages ago, Age of Mahjong will captivate you for hours on end!
Age of Mahjong full version features include:
56 Story mode levels
Unlockable bonus game
Build your metropolis!
Use eight bonus items and earn 28 trophies
Lead an epic makeover is this unique Mahjong challenge
Age of Mahjong Game Customer Reviews
Outstanding Mahjong Game, very nice graphics, controls are set up nicely, I like the mixture of story and strategy (building city). Fun to play. Recommend to buy if you like Mahjong games.

- by moonryu
Congrats Mahjong! This is so beautifully done, the colors are exquisite; as so are the tiles. The story is wonderfully done. Yes there is a time limit, and if one does not finish the time limit given. Well you just don't get a gold star, nor silver but you can still finish the game. Love the beautifully done architect to the buildings and i get to watch it get build as well as do the upgrades.. The music is also done nicely. Thank you for all of the effort that you put into this

- by zandu2
Mahjong lovers this is for us. Excellent. Those of you who have not played Mahjong I believe this will grab your interest. The tiles are really colorful and the scenes are pretty. The gameplay is great. I am not going into telling the story, but it is really good because you will want to play until you find out what happens to the boy. As I said Mahjong lovers you will buy this one. I do not listen to sound on any game I play so I cannot rate that. This Mahjong will grab your interest.

- by alee7383
Related Games
If you like Age of Mahjong game, you may also like...