Bob the Builder: Can-Do Carnival
Help Bob build the town Carnival! in addicting Bob the Builder: Can-Do Carnival Game
System Requirements
OS: Windows XP, Windows Vista
Memory: 256 MB
CPU: P800
Video: 32MB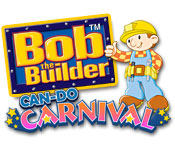 Bob the Builder: Can-Do Carnival Game Description
The Carnival's in town! Or is it? The Carnival train just passed by, taking all the rides and fun with it! Get together with your children, grandchildren, nieces, or nephews to help Bob and the Can-Do Crew build an amazing Carnival through exciting and educational activities, sticker bonuses and a build-it-yourself sticker book mode! Can we build it? Yes we can!
Bob the Builder: Can-Do Carnival full version features include:
Merges Academic Fundamentals With Ease Of Playability!
Collect Over 100 Stickers!
Teaches Creative Problem Solving And Critical Thinking!
Children Can Play Along!
Bob the Builder: Can-Do Carnival Game Customer Reviews
I liked the game, When my son was 3 he was absolutely able to surf the net and play online games without any supervision, so it is perfect for the target group. I believe my son is not the only one :) I think it is better our kids play such games rather then some shooting and such...

- by gebezis
Great for Pre-Schoolers! Actually my 3yr old can get on the computer and go to his links to play games and even start a movie if he wants so this is perfect for him. Not so much for adults but kids will enjoy it.

- by FrenchVanilla
Bob the Builder Can-Do Zoo is a fun game for kids to be creative with their computer. Bob the Builder Can-Do Zoo focuses on critical thinking and problem solving. Kids can complete fun and educational activities to build animal habitats for the Bobland Bay Zoo, with the help of Bob the Builder and the Can-Do crew. This award winning Bob the Builder Can-Do Zoo game is a good mix of education and fun, it has bright and bold graphics and is suitable for young children!!

- by Zoomer
Related Games
If you like Bob the Builder: Can-Do Carnival game, you may also like...