World of Goo
Construct towers in a World of Goo! in addicting World of Goo Game
System Requirements
OS: Windows XP/Vista/7/8
CPU: 1.0 GHz
RAM: 512 MB
DirectX: 9.0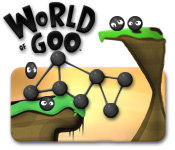 World of Goo Game Description
Drag and drop living, squirming, talking globs of goo to build structures, bridges, cannonballs, zeppelins, and giant tongues! The millions of innocent goo balls that live in the beautiful World of Goo are curious to explore, but they don't know that they are in a game, or that they are extremely delicious. This addicting and awe-inspiring Puzzle game will set you on an adventure that you'll never forget!
World of Goo full version features include:
Clever physics system
Unique gameplay
Live in a World of Goo!
World of Goo Game Customer Reviews
When I saw World of GOO mentioned on many sites as an amazing game that didn't get much main stream attention, I was unsure if this game would be any good. It came out on the Wii as well and then I thought lets try it, and let me tell you... once you get the hang of it you dont want to let go. Aside from the amazing graphics and funny sounds, the fun of getting the gooballs to their pipe is amazing fun.

- by solidsting
Quite interesting and very gooy. I actually like the sound effects than most of the games I have tried. The game play is challenging and diffent. For some strange reason, I always had a fascination when I was a kid for the hot tar that are on roads and this game reminds it. Now I can actually play with it and not get my it all over me ;) Love the way that if I was not careful, gravity would topple my ladder over. As for getting hints or teachings, don't need them. Goo makes me wanna try over and over again to get it right.

- by littleone2008
Fantastic game! Fun, stylish, original, excellent presentation and quite challenging! Indie games of the year on several sites! Deserved!

- by gogolmax
Related Games
If you like World of Goo game, you may also like...