Build-a-lot 2: Town of the Year
Beautify and flip houses for huge profits in this exciting sequel! in addicting Build-a-lot 2: Town of the Year Game
System Requirements
OS: Windows 2000/XP/Vista
Memory: 256 MB
CPU: P 500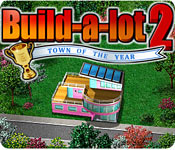 Build-a-lot 2: Town of the Year Game Description
It's time to get busy again building, buying and selling houses in this exciting sequel! There are new towns to explore, new Mayors to meet and lots of money to be made! Use your keen eye to pick the right locations to build parks and shops. Pick your paint colors, upgrades and landscaping to create the ultimate curb appeal and earn outstanding profits. How about a latte from the new coffee shop? Some new flower boxes from the garden center? It's all waiting for you in Build-a-lot 2!
Build-a-lot 2: Town of the Year full version features include:
Flip Houses For Big Profits!
Build Fun Parks To Beautify The Neighborhood!
Paint And Landscape Houses!
Construct Fancy Shops And Earn Profit Sharing!
Build-a-lot 2: Town of the Year Game Customer Reviews
This is a great sequel and really adds a lot of new features. Being able to paint and landscape your houses to increase curb appeal really adds to the strategy. Constructing parks and shops is fun too. The original was a lot of fun but this new one is even better! My only gripe is that the same music plays throughout the whole town. Otherwise the game is excellent.

- by bpark67
Every member of the family loved this game. Better than the original and very addictive. Tricky in places - not an easy ride at times but so so so so much fun!! Highly recommended.

- by Kynance
This is my favorite of the 3 Build-a-lot games. I find this one bright and entertaining. It's challenging without being impossible. The characters and communities actually add to the game's apeal rather than push the action along. The additions to game (painting, landscaping, shops, etc.) improve the quality and overall fun. It's a great sequel- they kept everything good about the game and added several great new twists.

- by jmday
Related Games
If you like Build-a-lot 2: Town of the Year game, you may also like...