Bumps
Fun cute physics based puzzles awaits! in addicting Bumps Game
System Requirements
OS: Windows XP/Vista/7/8
Processor: P500
Memory: 128 MB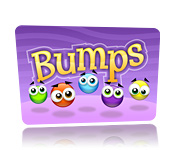 Bumps Game Description
They came out of nowhere. They caught us by surprise and hunted us down before anyone knew what was happening. After a few hours it was all over. Most of us had been caught and stored away in balls of energy - safely locked away as tomorrow's lunch. Very few of us managed to run and hide. Now it's up to us to free our captured friends - one bump at a time. Place us carefully to open the locks and free all the bumps.
Bumps full version features include:
Physics based Puzzles
Cute lovely graphics
99 mindbending levels
Colour blind mode
Bumps Game Customer Reviews
Bumps is an brain teasing physics base puzzle game suitable for everyone. In the Bumps game all your Bumps buddies have been captured and you have to rescue them. Within the Bumps world you can travel high and low as you explore the spinners in the sky or go under water and see the deep sea delights. The power-ups in the Bumps game include Reverse Physics where the Bumps go skywards, Big Bumps that make the Bumps grow five times larger and Tiny Bumps that let the Bumps shrink down in size to fit between tight places. Bump, bounce and roll your way around as you try to rescue your Bump Buddies!!

- by Zoomer
I love this game. It is a 'pick up at will' type of game and I like that sometimes. The graphics are excellent, and the sound effects (from the Bumps themselves) are lovely. A real skill game as the object is to set the character up so as to bounce around and then collect the key to release the others. If unsuccessful one feels compelled to have another go as you are certain that it will work with just a little tweek this way or that. Excellent, compelling and yet relaxing.

- by Gilljay
This game is fun for almost any age group. I let my first grade students play it...and they were able to get past levels I couldn't...Amazing.

The graphics and sound are excellent. This game works well with a mouse....or a touch screen pc. It has a ton of levels to make the challenge last a long time.

- by MrRasdell
Related Games
If you like Bumps game, you may also like...