Penguins' Journey
Lead a band of quirky penguins back to their arctic oasis! in addicting Penguins' Journey Game
System Requirements
OS: Windows 2000/XP/Vista/7
CPU: 1.0 GHz
RAM: 256 MB
DirectX: 8.1
Hard Drive: 32 MB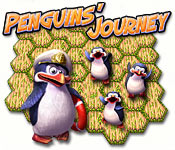 Penguins' Journey Game Description
Shovel, pound and piece together wooden puzzle bridges to help your penguin friends escape to their homeland! Since these penguins are from Penguin Farm, they've never learned to swim, so it's up to you to help them reach Antarctica by building bridges over muddy marshes and vast oceans! Watch out for pesky frogs and other crazy distractions that will try to push your penguins overboard! Don't leave your penguin buddies behind...build that bridge!
Penguins' Journey full version features include:
Cute And Quirky Characters!
45 Levels In Three Fantastic Environments!
14 Awards To Win!
3 Challenging Bonus Games!
Penguins' Journey Game Customer Reviews
Penguins' Journey is a fun tile-based puzzle game that has you helping penguins on their journey from penguin farm to Antartica. To succeed in Penguins' Journey you have to build bridges between islands to help the penguins island hop and complete their journey. If your penguins fall into the water, it is up you to save them by throwing life preservers. As each Penguins' Journey game level is completed the challenge becomes harder with more tiles, increasingly intricate bridges to build for the penguins and pesky creatures presenting obstacles. Penguins' Journey is a brain teaser puzzler that will test your puzzle and logic skills to the limit

- by Zoomer
Penguins' Journey is a fun game. I liked playing this game

- by Mary L
Fun, easy to learn and hard to master, and a very different gameplay feel than most games out there. Clever details, and a good mix of audio and visual clues during a round. I had very low expectations of this, but with the power-ups it turns out to be as much a mental game as a reflex one. Very nice change of pace.

- by robin94122
Related Games
If you like Penguins' Journey game, you may also like...