Burger Shop 2
Fast-paced food making fun! in addicting Burger Shop 2 Game
System Requirements
OS: Windows XP/Vista/7/8
Processor: 700 MHz or faster
Memory: 256 MB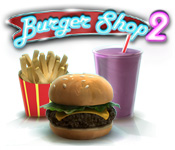 Burger Shop 2 Game Description
In Burger Shop 2 you must rebuild your restaurant empire by adding new twists to your menu to entice new customers while uncovering the truth about what happened to your original restaurant chain. Grab ingredients from the BurgerTron2000 to create tasty food items to serve hungry customers in this fast-paced time management game. Start your food making adventure today!
Burger Shop 2 full version features include:
4 game modes: Story, Challenge, Expert and Relax
120 story mode levels, 120 expert mode levels
Over 100 trophies and awards to earn
Over 100 different menu items
Burger Shop 2 Game Customer Reviews
It is everything that I was hoping it would be. There is a lot more food and different ways to cook it. Like toasters for toast and waffles...oven for steak and chicken. It is totally awesome. I will be buying this game as soon as I can. Get this...you can even give dog biscuits to customers that have dogs so the owner will have more patience. WOW about sums it up for me.

- by jbnkids
What can I say----I LOVE THIS GAME !!!!!!! I hated my free trial ended. I must buy this game. Burger Shop 1 was fun but 2 is GREAT. I would have gave it more stars if I could have

- by sxy108
This game is amazing! I loved the first, although got a bit sick of the repetitive burgers near the end. Burger Shop 2 solves that problem with alternating breakfast, lunch and dinner menus. The earlier levels feel a bit short/easy, but that corrects itself later on, especially in the Expert story. In Relax mode you can choose which menu to serve, and Challenge mode is really, well, challenging! The only (very small) complaint I can think of is that they got rid of the various "restaurants" in relax mode (where you could run the total money earned in each of them up independently) and now the total earned runs across restaurants. In general, great story, funny dialogue, screen titles and little comments. Definitely worth buying!

- by allk-e
Related Games
If you like Burger Shop 2 game, you may also like...