Legends of Atlantis: Exodus
Save the people of Atlantis and their kingdom! in addicting Legends of Atlantis: Exodus Game
System Requirements
OS: Windows XP/Windows Vista/Windows 7
CPU: 1.2 GHz
RAM: 512 MB
DirectX: 9.0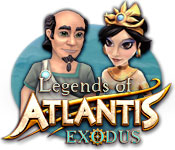 Legends of Atlantis: Exodus Game Description
Atlantis is facing its end of days and it's up to you to save the people and their kingdom in Legends of Atlantis: Exodus! Massive tidal waves are sweeping away its coasts, earthquakes shake its mountains, its fields are in flames and its cities are falling apart. You are tasked to help evacuate the people and collect ancient Atlantean artifacts on the way. Prioritize your objectives and put your benevolent Queen's secret plan into action before devastation sinks the cities deep beneath the waves!
Legends of Atlantis: Exodus full version features include:
Over 50 addictive levels
Beautifully rendered HD locations
Mini-games, bonuses, achievements and more
Beautifully rendered graphics and colorful characters
Legends of Atlantis: Exodus Game Customer Reviews
I loved this game! I am not usually a time management games player but I really enjoyed this, probably because I could play in Relaxed mode. I played the whole thing in about 3 days off and on. Very fun with replay potential to hone resource management strategy.

- by jkuci
A pretty good time management game along the lines of My Kingdom for the Princess, etc. Added bonus to this game is that the player can multi-task (i.e. click on a string of tasks instead of waiting for the character to finish one task before clicking on a new one). The mini-games are nice, not very challenging, but a nice break from the time management aspect of the game. I look forward to a sequel.

- by musdesign07
This great TM game has lots to offer - and lots of challenges! There's much more to it than first meets the eye. Remember: Plan the work, and work the plan! Take time to read what the guide or the Queen says at the start of each stage; there will be hints as to what needs to be done and in which order. Take some time before you start to view the screen and see what needs to be restored - and what is not there as well. for example, if you dont see a well, then you need to find other sources for water (perhaps the trader at the market?). Follow the roads to see what is to be gained at each village and then move accordingly. Random acts might result in your restarting the same level. Be sure to see which is needed first the Hunter or the Watchtower. I like the option of moving to/from casual to challenge mode. I also like the special HOG screens and even the Wizard's crystal challenges - different twists to add to the fun!

- by Smedley
Mission-based, construction/repair-based make up some of my favorite time management games. Add the option to work through it untimed for days I just want to relax and I am sold.

Legends of Atlantis has an interesting story line, rather than restoring villages, you need to rebuild enough infrastructure (like sawmills) to rebuild roads and clear debris to allow the good citizens to evacuate. Gameplay resembles Roads of Rome and My Kingdom for the Princess, and with more than 50 levels I foresee hours of fun ahead.

- by galotter
Highly addictive time-management game with beautiful HD graphics. I am not a big fan of this genre, but i couldn't stop playing for the first 3 hours. Very simple to understand and doesn't get boring. One of the main aspects i liked, that it is very-well balanced, hence it's always challenging, especially if you want to beat stages with Expert time.

- by Oleg Nevskiy
Related Games
If you like Legends of Atlantis: Exodus game, you may also like...