The Happy Hereafter
Create a little slice of Heaven! in addicting The Happy Hereafter Game
System Requirements
OS: Windows XP/Windows Vista/Windows 7/Windows 8
CPU: 1.6 GHz
RAM: 512 MB
DirectX: 9.0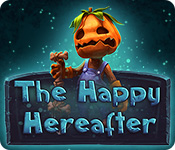 The Happy Hereafter Game Description
Welcome to The Happy Hereafter, a casual sim in which you guide the newly dead as they build an afterlife for themselves and their fellow lost souls. Explore weird but wonderful landscapes, discover cleverly hidden secrets, and complete dozens of challenging missions in your quest to create a little slice of Heaven in the underworld!
The Happy Hereafter full version features include:
Six locations
Dozens of wacky characters
Comic book style story scenes
Accomplish over 100 missions
The Happy Hereafter Game Customer Reviews
This cute little sim is a gem. You are in the land of the hereafter and the dead must learn to build themselves houses, educate themselves (shades of Virtual Villagers), build tools and fulfill quests. It is harder than it seems (a little later on in the game), and I've had to restart it several times. The quests appear on the left hand side of the screen with an exclamation mark. You must gather materials, study a course at the laboratory and make appropriate tools, together with having enough gold to complete the quest. It is quite a long game, and be careful what you sell (trade) as you may need it to complete a quest and move on in the game. It's 4:55am here and I'm still going, as it is very difficult to tear myself away. There are walkthroughs galore on YouTube and also a forum to answer any questions you may have. Really worthwhile. It is now my very favourite game.

- by megs56
I love this game. It's a sim game, so it is slow paced. The game tells you what needs to be done and the graphics are cute! I find it relaxing. It's not a hard game, a puzzle game or even really one that requires a lot of thinking. It's just a calm, fun game. The characters are hilarious - especially if they're hungry!!

- by bassndeer
This game is a lot of fun. You are in charge of building a place for souls to go in their afterlife. There are many quests that you must do to build your city and expand. The storyline was entertaining, although sometimes the commentary from the quest givers was a bit too much. You can just click thru if you don't want to hear the story, but it is pretty good. I found myself looking forward to the next story most times. Graphics are great as is the sound and music. All in all, a great game. I highly recommend it!

- by mammamia21099
Related Games
If you like The Happy Hereafter game, you may also like...