Cake Mania 3
Travel through time to save a wedding. in addicting Cake Mania 3 Game
System Requirements
OS: Windows XP/Vista
CPU: 600 Mhz
RAM: 128 MB
DirectX: 6.0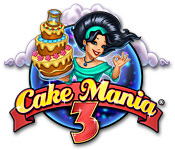 Cake Mania 3 Game Description
Jill confronts her greatest challenge yet in Cake Mania 3. As Jill nervously prepares for her wedding day, disaster strikes when a mysterious time bender sends Jill's family and friends hurtling through time. Now, to ensure her wedding goes off without a hitch, Jill herself must travel to remote periods in time and work her cake-making magic on a wide variety of locals in order to get herself and her guests back before the ceremony begins!
Cake Mania 3 full version features include:
All-new power-ups!
Customizable bakeries
Zany new customers
Head back to the bakery with Cake Mania
Get help at our Forums
Cake Mania 3 Game Customer Reviews
Being an avid fan of Cake Mania, I made sure I got it the minute it was out in the market. The graphics are captivating and storyline was interesting. The fact that I could choose what level to play next motivated me to stay on for hours and find out where each member went to. As they say, the spirit is strong but the body is weak...only tired eyes kept me from finishing the game with one go.

- by jmflores
I have been a hardcore cake sim fan for years, and nothing had prepared me for what was in store with Cake Mania 3. Cake Mania 2, with the advanced frosting physics and over the top batter mixing, was a game for the ages. Cake Mania 3 just blows 2 out of the water, or should I say out of the oven!. This game introduces incredible mechanics from precision slicing to turn-based layering. A must have for any cake sim fan.

- by M. Swartz
Cake Mania 3 is absolutely a MUST HAVE! Compared to the past two games, Cake Mania 3 improved all aspects there is! From the graphics, to the gameplay, to the sound, to the story (there are even voices included!), EVERYTHING! I rate everything five stars!

- by janrehino
Related Games
If you like Cake Mania 3 game, you may also like...