Parking Dash
Ramp up your DASH game with an all new parking puzzle! in addicting Parking Dash Game
System Requirements
OS: Windows XP, Windows Vista
Memory: 256 MB
CPU: P 1.2GHz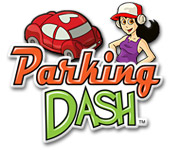 Parking Dash Game Description
Meet Karma, Flo's hip friend, whose life takes a dramatic turn when she's contacted in her Donutville apartment about inherited property in DinerTown! Flo intercedes before Karma can sell the tiny blacktop lot behind Flo's Diner and encourages Karma to start her own business! You'll have to be quick to click as you rack, track, and even stack automotive gems from every corner of DinerTown. Help Karma clean up the streets in this thoroughly entertaining mix of the familiar and the unique. Hop in now!
Parking Dash full version features include:
Introducing Flo's Newest Friend, Karma!
50 Levels Of Puzzle Parking Hilarity!
Fabulous New Upgrades!
5 New DinerTown Locations!
Two game play modes: story and endless shift.
Parking Dash Game Customer Reviews
I liked this even better than Cooking Dash. A new theme and way of playing for the TM genre, which was desparately needed. Karma is the most engaging Dash heroine since Flo herself. Challenging but not impossible. Cute customers types.

- by arcadiarose
I really like this game & I am not a fan of the Diner Dash games, (though I do like Wedding Dash). The only thing this game has in common with the Diner Dash games is the character. This one starts off easy, but gets pretty difficult in the later stages. You really have to plan your strategy to fit the cars in right & keep everyone happy. There are a few little clicking glitches. I buy very few games & I bought this one & was not disappointed. I hope there will be a Parking Dash 2.

- by kittykitty
I think its a lovely game! I played all 50 levels with expert on all and i love the storyline,graphic,music and Karma! A bit annoying is the headshakes she does when she has washed a car,but in the long run it makes the game a bit more difficult!

- by Deliiight
Related Games
If you like Parking Dash game, you may also like...