Chicken Invaders 4: Ultimate Omelette
Prevent our omelette-flavoured doom! in addicting Chicken Invaders 4: Ultimate Omelette Game
System Requirements
OS: Windows XP/Vista/8
CPU: 1.0 GHz
RAM: 256 MB
DirectX: 8.0
Hard Drive: 77 MB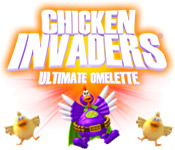 Chicken Invaders 4: Ultimate Omelette Game Description
They came without warning, squawking menacingly, their ruffled feathers darkening the sun. Invading intergalactic Chicken Invaders, out to punish humanity for our oppression of their earthly brethren! I instantly knew what had to be done. I dropped my half-eaten chicken burger and jumped in my cockpit. With a greasy finger I set my lasers to "extra crispy" and blasted off to intercept the fowl invaders.
Chicken Invaders 4: Ultimate Omelette full version features include:
Repel fowl invaders in this hilarious Arcade Shooter.
Blast off and fight through 120 waves in 12 intergalactic star systems.
Discover nine awesome weapons, each upgradeable to 11 levels.
Battle Boss chickens, collect 30 unique bonuses, and unlock 20 secrets.
Enjoy this action-packed experience with the entire family.
Chicken Invaders 4: Ultimate Omelette Game Customer Reviews
For a fourth in a series this game is spot on. Lots of new challenges. Baby chicks, new bosses, Retro arcade level. Final boss was slightly easier to beat than the one in CI3, but I came to that level with plenty of lives & power. Blue weapon is a little different, but the others seem about the same. New satilite weapons. Wasn't real happy with the set up for those, because of those you had to use middle click for missiles- which for me worked about every third time, but you can adjust settings so you can use right click. Lots more coins, the food dropped is worth varying amounts (In CI 3 I think no matter what you picked up it was only worth one). More unlockables which you can buy with keys you pick up, instead of having to win. Well worth the money for the CI fan. Great shooter game, lots of laughs with the storyline. Overall a good game for the whole family.

- by lisaa7002
I was excited when I saw the game was available...finally! I have enjoyed all the other versions and well... they were all pretty much the same except the theme, ie. Christmas & Easter editions.. I still bought them though! This sequel blew the others right out of the water. I love the fact that you can collect the keys to unlock items like: adding more missiles for your ship... to use bombs instead of missiles... unlocking the Vet. and Expert mode, to making all weapons available on the first level. All new gameplay.. new bosses, new powerups..and let's not forget the storyline. I found it sarcastically amusing! This is a great buy... and you will not tire of playing it over and over again. Blasting chickens just got a whole lot better!!

- by SereneEve1969
Being a Chicken Invasion fan, I am in chicky shootin' heaven - if you like chooting games, this is based on the old Galaxian format - shooting aliens or in this case chickens - you earn points for shooting the chickens, collecting the drumsticks, chicken burgers, gold coins - you implode Bosses including a never-before seen chicken grabbing crab alien - don't forget to avoid the eggs and my favorite shooter of choice is the red package.

- by Savannah
Related Games
If you like Chicken Invaders 4: Ultimate Omelette game, you may also like...