Monster Mash
Defend the fairy-tale world of Curly Valley! in addicting Monster Mash Game
System Requirements
OS: Windows 2000/XP/Vista
Memory: 256 MB
DirectX: 7.0 or later
CPU: P2 400
Video: 32MB Video Card
Internet: Active Internet Connection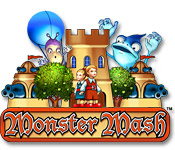 Monster Mash Game Description
The villagers of Curly Valley are under attack from legions of quirky and bizarre monsters. Use all of your cunning and might to repel these mysterious invaders by fortifying the vulnerable villages with various towers, upgrades and unusual defensive armaments. With more than 25 increasingly powerful tower upgrades and 9 unique storybook-inspired scenes, the grateful villagers of Curly Valley will cheer you on with every conquest in Monster Mash, an addictive, strategic adventure!
Monster Mash full version features include:
Defend Curly Valley!
20 Quirky And Bizarre Monsters!
9 Unique Scenes!
Hours Of Challenging Gameplay!
Monster Mash Game Customer Reviews
I LOVE this game! I have played it a number of times and never get tired of it. This is a defense tower style game, but better than most. Why, oh why, don't the creators come out with a second one? I'd buy it in an instant.

- by collagejoy
This game is truly fun, funny and a blast to play, I normally only play the free trials and then that's it, this is one that I actually bought.....I find it very challenging, fun and rewarding to get thru the levels. The green runners are way too fast and having problems defeating them, but overall this game is very fun, addicting and one I'll play for many days, weeks and months to come!!!! try it you'll love it...

- by stymeman_2003
Love this game, have replayed several times now. Really wish they would come out with a second one.

- by KariA105
Related Games
If you like Monster Mash game, you may also like...