Christmas Stories: Nutcracker Collector's Edition
A classic Christmas tale tail, with a whole new twist! in addicting Christmas Stories: Nutcracker Collector's Edition Game
System Requirements
OS: Windows XP/Windows Vista/Windows 7/Windows 8
CPU: 2.5 GHz
RAM: 1024 MB
DirectX: 9.0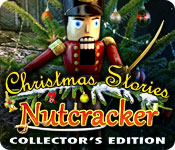 Christmas Stories: Nutcracker Collector's Edition Game Description
A classic Christmas tale tail, with a whole new twist! Help the Nutcracker rescue the princess from the evil Rat King in this memorable hidden-object puzzle adventure game. You might be too late for the Christmas Ball, but you're just in time for adventure! The Nutcracker needs your help, and there's an army of rats running rampant through the kingdom. Luckily, a few cute little sidekicks have got your back. Uncover the Rat King's evil plot - and find out what created the toothy little monster. This Collector's Edition includes a bonus game that tells the story of your agile sidekick and his super band of feline fellows. Other fun extras:
Christmas Stories: Nutcracker Collector's Edition full version features include:
Concept art - some that never made it into the game!
A special "Cat Cave" collection
Achievements under the Christmas tree
Wallpaper and soundtracks
Game Screenshots
(click on Christmas Stories: Nutcracker Collector's Edition game screenshots to zoom)
Christmas Stories: Nutcracker Collector's Edition Game Customer Reviews
Really lovely festive adventure HOG to put you in Christmas spirit. Nicely drawn and a cute storyline and bonus game too. A nice mix of puzzles and HOG as well as adventure elements so nothing too repetitive and therefore nicely engaging.

There is a bit of running to and fro but there is a map which shows you which areas have something to do in them and can transport you there immediately so it's not a problem at all. I played in adventure mode so there wasn't any helpful sparkles but found this map element just enough to help me out if I got stuck knowing what to do next.

Well worth playing, especially at Christmas!

- by aitchie
I enjoyed this game from the start. I usually begin by turning off the music but not this one. The grapics are beautiful. I am also partial to any game with a map (ESPECIALLY if we can jump from place to place). This one has every feature I like in a game with a delightful story as well. The cut scenes were fun to watch. I will buy this one for sure and enjoy every moment!

- by wjnank
Gorgeous game, extremely beautiful graphics and sound - Tchaikovsky's original music. Atmosphere in perfect agreement with the original ballet. Lots to do, beautiful locations to explore, game and characters extremely well developed in detail, special treat, fun and beauty. Eight chapters, 25 dolls to collect, lots of achievements, bonus chapter, 4 tchaikovsky musics, videos (increadible cutscenes). Amazing and delightful way to get ready for Christmas Extremely highly recommended.

- by Rebr2009
Related Games
If you like Christmas Stories: Nutcracker Collector's Edition game, you may also like...