Travelogue 360: Paris
Have a great time exploring Paris and searching for souvenirs! in addicting Travelogue 360: Paris Game
System Requirements
OS: Windows 98, Windows 2000, Windows XP, Windows Me
Memory: 128 MB
CPU: P800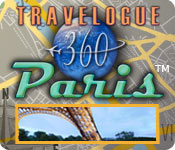 Travelogue 360: Paris Game Description
Among its renowned landmarks and hidden gems waiting to be discovered, Paris holds something new for each of its visitors. Scour some of the world's most famous locations for souvenirs as you prepare to be interviewed for an upcoming article in Travelogue 360 magazine! Locate items hidden in 3-Dimensional views of the Eiffel Tower, down the Champs Elysees, under the Arc d'Triomphe, and other Parisian landmarks! There are 22 eye-catching locales in all as well as fun facts and mini-games galore!
Travelogue 360: Paris full version features include:
22 Eye Catching Locales!
Explorer And Tourist Modes!
Thousands Of Souvenirs To Find!
Mini-Games Galore!
Travelogue 360: Paris Game Customer Reviews
Oooooohhhhh WOW! Imagine the scene, Paris, France, the smell of bread hangs heavy in the ear, French music playing softly, crowds wandering and enjoying the evening air...... It's just like BEING there (not that I have been mind you!) If you have tried the other 'look and find' games like Huntsville, then you will adore this game. You get a complete view of some of the most famous places in Paris, along with some really interesting facts about the places. Please, you must at least try this game..... I'm hooked, and would love to see a complete world series of these!

- by SammiBabe
I love the hidden picture games lately and this one adds a new twist with the 360 view and it also has a zoom feature. I think these are pretty easy to get used to. The hint feature is good I think, it has to recharge but thats part of what makes it a little challenging. That way you can't oveuse it. Very fun and this is the first of the hidden pictures that I have actually had to play the last round over and over because it wasn't so easy to beat. Also its great for any age which in this day and age is definitely a plus- no worrying about the kids playing something inappropriate. Paris is done- lets see the next location soon!!

- by Andrea Macdonald
I have played this game and other hidden picture games and just have so much fun. My husband and daughter also enjoy playing them. Great Game and Great Fun. The 360 degree thing took a little practice and I kind of don't like the Hint thing because you have to wait for it to recharge. All in all, I really like playing this as it is a change from just straight hidden pictures.

- by M. Johns
Related Games
If you like Travelogue 360: Paris game, you may also like...