The Great Gatsby
Bring this legendary novel to life! in addicting The Great Gatsby Game
System Requirements
OS: Windows XP/Vista/7/8
CPU: 1.2 GHz
RAM: 512 MB
DirectX: 9.0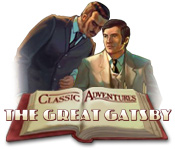 The Great Gatsby Game Description
Join Nick Carraway as you explore the mansions and bungalows of Long Island, the parlors of New York City, and the heart and soul of the Roaring Twenties. Attend extravagant parties and lush gatherings as you dance the Charleston with a happy couple harboring scintillating secrets. Sip bootleg gin with a mysterious millionaire desperate to bring the passions of the past into the present in Great Gatsby, a fun Hidden Object game.
The Great Gatsby full version features include:
Gorgeous scenes
Variety of minigames
Bring this novel to life!
The Great Gatsby Game Customer Reviews
I have always been a Fitzgerald fan but was frankly surprised to see Gatsby made into a game -- wasn't sure what to expect. I was afraid it would feel like a made-for-TV-movie and miss the nuances of this great novel. I have not finished the game yet but have been pleasantly surprised at every turn. Great care seems to have been taken to craft a game that is true to the novel while still being approachable and fun to play. I have been burned out on hidden object games lately, but this is restoring my faith. So many unique additions to gameplay, especially the moving scenes, typing game, and memory game. Finally I don't have to put together a jigsaw puzzle or do another "mastermind" game!

The artwork has a 1920s style to it, and the music seems right on. The actors are clearly trained and know this story. It's actually quite a sad story and the acting hits just the right note. I can see that this game might not be for everyone but I find it very hard to stop playing. It has atmosphere, if that makes sense. It's more than just a throwaway hidden object game. You get the sense that everyone who worked on the game actually knows the novel.

- by Trobadour
A definite buy for me The mini-games are fun and different from the usual, the graphics are clear and unencumbered. The story itself is taken from a classic novel that I read in high school, later re-read as an adult and when made into a movie, went to see that. There are no screen resolution or technical problems.

- by Faylyn
This hidden object game has a lot of NICE diversions and extras that make sit fun to play. There is the hidden object part with a list, but also a word made up of hidden letters in the scene as well. Find the letters and they fill in the word block. When you guess the correct word (even if it isn't completely spelled out) you get extra points. Use the popints you earn to buy things in a library... Great concept for the extras in the game. It gives us something to actually do with points other than accumulate them. I liked it a lot.

- by rpmcfall42
Related Games
If you like The Great Gatsby game, you may also like...