Columbus: Ghost of the Mystery Stone
Help Columbus explore an island! in addicting Columbus: Ghost of the Mystery Stone Game
System Requirements
OS: Windows XP/Vista
CPU: 1.0 GHz
RAM: 1024 MB
DirectX: 9.0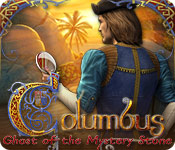 Columbus: Ghost of the Mystery Stone Game Description
After crashing his ship, and being tossed overboard, Columbus sees a beautiful apparition reaching out to him. Waking up on a mysterious island, Columbus begins to explore his surroundings and stumbles upon ancient treasures and perplexing puzzles. Find important items that will help you move on in Columbus: Ghost of the Mystery Stone, a fun Hidden Object Puzzle Adventure game.
Columbus: Ghost of the Mystery Stone full version features include:
Gorgeous gameplay
Incredible artwork
Explore an island!
Columbus: Ghost of the Mystery Stone Game Customer Reviews
I really enjoyed the demo and did not hesitate to buy the game. I found it GOOD, GOOD and VERY GOOD all the way around. The storyline was interesting and game play seemed long enough (since I have not finished it).

It was easy to follow (no instruction manual necessary!) with a quick hint system. Items were not impossible to find but uniquely hidden. I enjoyed the variety of finding the objects and then a scene where the items are broken into peices(forget what that's called) and it just continues to flow in the story. The instructions on what to do was made perfectly clear and you don't get charged for a hint for using it for direction.

The best thing I found with the game was the graphics were great, clear and precise. The scenery was positively beautiful. The water actually rippled and the sound effects were right on time. It made me wanna experience it closer as it was almost serene in some locations.

Game play was extremely "smooth" and I think it is one of the better games to have been released in a while. Well worth the money to me.

- by cspmbs2
Great graphics, quiet music and guess what - a strategy guide and extras - wow! TWO DAYS IN A ROW! It's nice to be able to buy a game with some extra features w/o having to pay CE price every single time! TY BIG FISH!

Played 30 minutes and really enjoyed it. The objects in the **** scenes aren't always as easy to find as you might think when you first look at it. I played on 'casual' mode and the hint recharge was about 30 seconds. There are mini games, as well as some of the ones where you have to find all the pieces to an item to get it, but so far are all in the same scene. Haven't had to look in other areas for them, in other words.

Definite use of a credit for this one! Thanks again, BF, for another great game!

- by BossBrat
I like this game so far. The graphics look nice on my computer. The music is fine. I agree with pretty much all of the positive comments so far. My only real complaint (and it's not really a complaint, exactly) is the story/Columbus's journal. Instead of the "supernatural" storyline, they could have used a vaguely realistic (and historically accurate) storyline and the game still would have been very interesting. To add to that, I think it would have been fun for them to have used excerpts from Columbus's real journal. (Then again, I am getting my Master's in History and I'm a huge nerd, so maybe this wouldn't be appealing to most people!)

I need two more punches to fill a punch card, and I think this one is a "buy" for me.

- by Imberis
Related Games
If you like Columbus: Ghost of the Mystery Stone game, you may also like...