Charlaine Harris: Dying for Daylight
Enter a vampire world! in addicting Charlaine Harris: Dying for Daylight Game
System Requirements
OS: Windows XP/Vista
CPU: 1.0 GHz
RAM: 1024 MB
DirectX: 9.0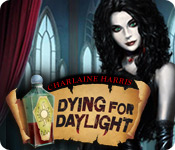 Charlaine Harris: Dying for Daylight Game Description
Enter a vampire world as Dahlia, a vampire with a fantastic sense of fashion and a razor-sharp wit! Go on an epic hunt to find the legendary sun potion in Dying for Daylight. As vampires have been productive and ultimately accepted into society, their ancient vulnerability remains true - they can only emerge at night. When rumors circulate that a legendary potion exists allowing vampires to walk amid the daylight, Dahlia jumps at the chance to further investigate in this fun Hidden Object game.
Charlaine Harris: Dying for Daylight full version features include:
Original vampire tale developed with Charlaine Harris, best-selling author of Sookie Stackhouse novels and inspiration for HBO's hit series True Blood
Track down scattered members of a strange circus troupe in New Orleans, Memphis and Charleston Harbor
Search for a legendary potion allowing vampires to survive in daylight
Uncover hidden clues, solve original puzzles, and gather ingredients to procure a legendary sun potion
Stay one step ahead of an ancient & rival sect of vampires who will stop at nothing
Charlaine Harris: Dying for Daylight Game Customer Reviews
I did a beta on this but cannot see what they have altered. The options are very basic, voice, sound, music and a choice of full screen or wide screen. This last did not alter anything for me, still have a black bar either side. It does not bother me. I found the H0 scenes to be a little grainy and some things hard to find. The hint takes a little time to charge and there is an interesting twist for over clicking. LOL!

I like the singing when you come out to the menu. It is a reasonably easy game and no need for a walkthrough after nearly 1 hour of playing. Will leave now and clear a space for the good reviewers. A definite buy for me.

- by peglegann
I loved this game!! I have to say that it is the best HOG I have played. The story of the game was unique, the music and graphics were great and the voice acting was really good! I think the length of the game was ok too, not too short like most HOGs but I only wish that the sequel was out already. I was sad when it ended. lol I like how the game is broken down into episodes like an actual show and then it gives you an update of the previous episode, very creative for a HOG. (I know I say HOG a lot.) lol The only thing I didn't really care for was the opening music. It wasn't too bad though. The puzzles were not too hard and the hint system was awesome and unique. I definitely didn't need a walkthrough because the hints were very thorough if you got stuck which I didn't. I definitely recommend this game to all HOG players!!

- by sahana
I totally loved this game! It sure have a style. The game is like comic book, even font for text. Liked the way, how it's divided into episodes and every have it's name, goal, the locations, what you don't need are closed. It absolutely great. It helps a gameplay a lot.

Story is interesting, because the characters are amazing. The voice actors really have done great job. And one good thing is that nobody is saving anybody. :D It's quite usual nowadays, that story is based of searching for some loved one in a dark, scary place. But here it's not like that. She just want to go shopping. :D

About graphics. Just wow, they sure are detailed. Hand cursor is just wow. Game's art was a pleasure to see. I really enjoyed this game, it got me hooked up, maybe yeah, it's disappointing to be left in the middle of story, still this game deserves 5 stars! Let's wait for chapter 2, there Must be continuation.

- by Linda Arende
Related Games
If you like Charlaine Harris: Dying for Daylight game, you may also like...