Country Tales
Explore the Wild West in Country Tales! in addicting Country Tales Game
System Requirements
OS: Windows XP/Windows Vista/Windows 7/Windows 8/Windows 10
CPU: 2.0 GHz
RAM: 1024 MB
DirectX: 9.0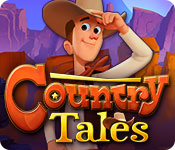 Country Tales Game Description
Ted used to be a simple farmer. But he just couldn't see himself being a farmer his whole life. He wanted more. So Ted decided to leave for the big city and finish school there. Once he was done with his education, he decided it's finally time to find a job somewhere. And he found one in a small town called Sunset Hills. He got a job as an assistant in the mayor's office. This is how Ted and Catherine met! Even though he tried to hide it, he was smitten the first time he laid eyes on her. Unfortunately for Ted, the mayor himself was Catherine's fiancé. And the mayor... well, the mayor had some very ambitious plans for Sunset Hills. Or better said, some very ambitious plans for himself...
Country Tales full version features include:
Explore the Wild West and meet peculiar characters
Put the bad guys where they belong - behind bars!
40 exciting levels to master and hundreds of quests
Gorgeous high definition visuals and animations
Country Tales Game Customer Reviews
Comparable to Pioneer Lands and Royal Envoy. Very nicely done graphics, sound, and story. Levels get progressively harder but not too difficult. The tutorial was clear on what to do and the controls are easy just point and click. Nice addition to the list of other time management games.

- by avril425
his game has it all! A love story, jealousy, conflict, heroes, and of course, the villain! Build the towns, arrest the low-down dirty varmints, and rescue the damsel! I was hooked from the first, and I am sure you will be too! The story line reminds me of the old "tie the pretty girl to the train track" and the villain with the mustache twirls. Hours of fun!

- by Shumana
I really liked this game it can be as challenging as you want it to be. You have to use some resources and then destroy them it to get the gold. Diamonds on later levels are very difficult or impossible.

- by squareclock
Us TM fans have been starved of any decent games for far too long. This one not only has all the necessary elements, but is actually fun to play and replay and replay. The graphics are beautiful, the characters delightfully drawn, a good storyline and clear instructions. I spent ages enjoying relaxed mode, trying to make my million dollars - and succeeded - and now I feel ready to try it all again in a more challenging mode. I even feel sure I will enjoy Expert mode - but probably won't master it. No problem. It is such a wonderful game that it's just fun to play. Can't wait for many sequels of the same standard.

- by sunbed
I loved this game, the graphic are very well done and large enough to see even in windowed mode. The storyline is charming, boy is smitten with girl, girl is engaged, young man must repair the cities. The game play is a basic buy supplies to build and maintain the town, but the story and graphics make it unique. There are three levels of difficulty, (of course I play relaxed) so you do have those options as well. My advice is download and enjoy a really relaxing hour.

- by pdmorrison
Related Games
If you like Country Tales game, you may also like...