Crime Solitaire 2: The Smoking Gun
Take on the Evergreen Heights' criminal underworld! in addicting Crime Solitaire 2: The Smoking Gun Game
System Requirements
OS: Windows XP/Windows Vista/Windows 7/Windows 8
CPU: 1.2 GHz
RAM: 1024 MB
DirectX: 9.0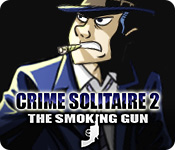 Crime Solitaire 2: The Smoking Gun Game Description
Evergreen Heights, 1935. The city is in the grip of its biggest crime wave since...well, the last one. As bungling detective Max Stone, explore a criminal underworld teeming with mobsters, criminals, crooks, thugs, thieves, bankers and lawyers, and more puns than you ever thought possible. Meet crazy characters and enjoy a captivating story mode with slapstick dialogue. Do you have the grit to hunt down and take down Jimmy Menendez and his boys, in Crime Solitaire 2: The Smoking Gun?
Crime Solitaire 2: The Smoking Gun full version features include:
Collect over 30 items
Also includes Challenge and Five Peaks modes
Visit 100+ locations!
Compete and collect 25+ trophies!
Use your coins to buy helpful power-ups in the shop
Crime Solitaire 2: The Smoking Gun Game Customer Reviews
A solitaire game set in the style of Mickey Spillane's Mike Hammer! It's just plain fun! If you're looking for a challenging solitaire game, this really isn't that challenging. However, if you're looking for a relaxing solitaire game with funny dialog, this game might be for you.

I found the sound and graphics excellent, bright and without lag and glitches. A good game, but not very challenging. Storyline and dialog, off the chart cute, funny and very relaxing!

Definitely worth a try. Happy Gaming!

- by SimplyLucy
This game is a lot of fun. The caricatures in the game are so corny but that is what makes the game so much fun. The only negative I can say about the game is the music. I wish there was different tracks to play then the same one over and over. Other than that I think any one, young and old, will enjoy this game.

- by tacomataz
Crime Solitaire 2: The Smoking Gun is a Solitaire game with a quirky fun sense of humor. The solitiare gameplay is pretty straight forward but the storyline with it's 1930's detective storyline sets this game apart from others. With lots of locations and crazy characters, I had a ball playing this game.

- by Zoomer
Related Games
If you like Crime Solitaire 2: The Smoking Gun game, you may also like...