Dark Tales: Edgar Allan Poe's The Black Cat
Go on an adventure with Inspector Dupin! in addicting Dark Tales: Edgar Allan Poe's The Black Cat Game
System Requirements
OS: Windows XP/Vista
CPU: 1.4 GHz
RAM: 1024 MB
DirectX: 9.0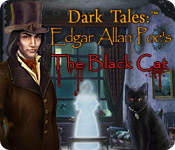 Dark Tales: Edgar Allan Poe's The Black Cat Game Description
Go on an adventure with Inspector Dupin! Monsieur Mark Davies has reported his wife, Sara, missing and now it's up to you to track her down and solve the mystery! Follow a mysterious black cat, who seems to be purposely helping you, and discover helpful clues in Dark Tales: Edgar Allen Poe's The Black Cat. Use your Hidden Object talents to tackle the case, and discover the evil culprit behind Sara's disappearance.
Dark Tales: Edgar Allan Poe's The Black Cat full version features include:
Incredible gameplay
Exciting story
Help Inspector Dupin!
Dark Tales: Edgar Allan Poe's The Black Cat Game Customer Reviews
As an astute BFG user reviewer noted, if it's from ERS Studios, it's pretty much an automatic "buy." This game very nicely ties in adventure with hidden objects with inventory, not to mention the Edgar Allan Poe "spookiness" (but not "scariness"). I really liked how the opening menu screen was done (especially the choice of cursors). The sound effects are as nature intended (meaning very realistic), and the background music is fitting (sometimes soothing, sometimes suspenseful) and generally appropriate to the scene. The cursor changes are good and give a nudge in the right direction (magnifying glass, hand, etc.) and the "sparkles" help without giving true adventurers too much assistance. The built-in strategy guide (no exiting to the main menu) is a definite plus in my book. The graphics are A+, from twinkling stars to water running in the sewers.

Some games make us feel like 3rd-party observers--this one enlists us as THE important character in the story. What's not to like? I say, if you've never bought a CE b4, this should be your first one!

- by elldee
I've been waiting for this for what seems like forever - didn't even play the CE - just waited for it as SE. What a great game! I love the fact that I have to use my brain to figure things out and that there are some neat ways to find objects. I played the hour trial and haven't even come close to the end of the 1st chapter. The story, graphics, everything is fun - so much so that I bought it and just heard that it's finished loading, so ta-ta and happy gaming!! -

- by ginro
Outstanding in length, clear graphics, beautiful & tremendous variety of scenery, choice of difficulty, interesting & compelling story, fresh take on mini-games and clear HO appropriate to the setting. I couldn't put it down. Good mix of adventure-HOG, though my personal preference is adventure. BUT the bonus extended play in the CE was not long enough or compelling enough to warrant the extra $$. It's a superb game but wait & spend $6.99.

- by gobaba
Related Games
If you like Dark Tales: Edgar Allan Poe's The Black Cat game, you may also like...