Sherlock Holmes and the Hound of the Baskervilles
Solve the Curse of the Baskervilles! in addicting Sherlock Holmes and the Hound of the Baskervilles Game
System Requirements
OS: Windows XP/Vista/7/8
CPU: 1.6 GHz
RAM: 512 MB
DirectX: 9.0
Hard Drive: 228 MB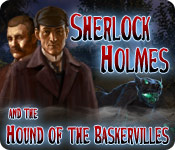 Sherlock Holmes and the Hound of the Baskervilles Game Description
Charles Baskerville is the latest victim of a centuries-old curse! Now, Henry Baskerville needs Sherlock Holmes' help to break the curse, before another murder occurs! Travel to legendary Baskerville Hall, and figure out exactly what is going on, and what the mysterious Hound of the Baskervilles is after. Crack the case in this incredible Hidden Object Puzzle Adventure game, Sherlock Holmes - Hound of the Baskervilles!
Sherlock Holmes and the Hound of the Baskervilles full version features include:
Incredible gameplay
Fantastic action
For a more in depth experience, check out the Collector's Edition
Game Screenshots
(click on Sherlock Holmes and the Hound of the Baskervilles game screenshots to zoom)
Sherlock Holmes and the Hound of the Baskervilles Game Customer Reviews
I don't think I've written a review before, but I thought I would because this game is incredible. I am a very-long-time gamer. I love adventure and HO games of the casual type. I'm going to write this as I play the game. I will not comment on length as I am taking my time to admire and enjoy the game. OK, I lied. I've finished it LOL!!

First thing to be noticed are the graphics. They are extremely well done, beautiful and atmospheric. The attention to detail is exceptional. I even noticed one very thin, long cobweb string running from the ceiling to an easel, coal overflowing a bucket, a missing tile in the kitchen and on and on. These could have been left out, but it's the attention to detail that is so impressive. Each room has twice the graphic/detail/atmosphere because as we zip back and forth in time, things change. The use of the special abilities gained as we go along are mostly for us to figure out-brilliant. As I am not too dense, this was appreciated.

There is a mix of hidden object scenes and fragmented hidden objects. Dark areas to be explored using one of your abilities was very innovative. In fact, the use of abilities was something new in these types of games and was very well done.

As I said, I think this was probably my first review, and I hope it was clear. I tried hard LOL! I think I will comment on length after all. Taking my time to enjoy everything, and some of the puzzles were a little time consuming for me, I played for over 20 hours spread over three days, and I am not a slow player. I don't usually buy CE's, but this game was more than worth the price. The extra content was almost another game in itself!

Buy this game. You will be amazed!

- by MagAngel
I LOVED THIS GAME!!!! i was getting sick of too many hidden objects (hog) and loved all the puzzles. the map, to move from one room to another quick, was wonderful. the graphics were really good, the music was good, the acting wasn't too bad.

i loved this game. i only skipped one or two puzzles. most of the clues were goo denough i didn't have to use a hint even once. the hidden objects, like five or six scenes, were well lit and no small objects. there's an easy and hard level, and medals for doing things like no hints or finding all objects in under a minute.

this is a great game. i tried the free trial and bought the game, finsihed in one sitting.

- by xssa
I really love this game! It might not be pull your hair out hard but it's great fun and its kept my interest big time! I love the detailed environments and switching back and forth in time and the story still makes sense. I read the original story and I didn't expect they could do anything good with the game but I am happily surprised. Would love to see more like this (and yes, maybe a little harder). I have read all the Arthur Conan Doyle stories and there's lots for them to do. I recommend it to anyone. I always wait for the SE to come out. Sick of wallpapers and avatars. Just bonus content, BF! Then I will buy.

- by hippyfishie
Related Games
If you like Sherlock Holmes and the Hound of the Baskervilles game, you may also like...