Dream Day Wedding: Married in Manhattan
Fall in love again as a new chapter opens for two New York brides! in addicting Dream Day Wedding: Married in Manhattan Game
System Requirements
OS: Windows 2000, Windows XP, Windows Vista
Memory: 128 MB
DirectX: 9.0
CPU: P 1.0GHz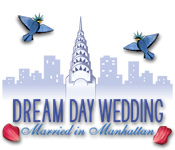 Dream Day Wedding: Married in Manhattan Game Description
Fall in love all over again as a new chapter opens for two New York brides! From Uptown traditional to Greenwich Village cool, choose which New York wedding you'd like to turn into a bride's dream come true. Enjoy gorgeous backgrounds as you explore each bride's Manhattan apartment, solve fun puzzles and try to avoid a wedding crisis! Brand new couples, mini-games, wedding crisis levels and love stories help this game deliver a fairy-tale ending for any casual game player!
Dream Day Wedding: Married in Manhattan full version features include:
Deliver A Fairy-Tale Ending!
Brand New Mini-Games To Play!
Solve Dramatic Wedding Crisis Levels!
29 Gorgeous New York Backgrounds!
Dream Day Wedding: Married in Manhattan Game Customer Reviews
Lovely novice hunt and seek game with charming graphics and a variety of engaging puzzles. Current and former New Yorkers will get a chuckle out of a few sly guest appearances and enjoy the familiar ambient noises. As somewhat less than a fan of weddings, I was suprised by how much I enjoyed playing with all the beautiful flowers and cupcakes. Perfect entry-level hunt and seek.

- by Nemone
Hidden object games that challenge players to find hundreds of well-concealed items in busy scenes is one of the hottest genres in the casual gaming space. This includes plenty of "sequelitis," which is just fine for fans of a particular series. And the latest sequel in the Dream Day franchise, Dream Day Wedding: Married in Manhattan, should satiate long-time fans.

...But overall, Married in Manhattan is a very good hidden object game that will no doubt impress fans of the series. Even if you havent played one of these games before, the four extra game-play elements and overall theme and slick presentation should ensure many hours of entertaining mouse clicking.

- by Marc Saltzman
Dream Day Wedding: Married in Manhattan takes a few pages out of its previous games and adds a few original ideas (Escape Puzzle, bride calling you, and Party Puzzle) while also copying similar features found in other games first (Apartment Puzzle) and finding a bunch of one item in scenes (eggs, arrows, etc.). ... Dream Day Wedding: Married in Manhattan still provides a pleasurable adventure for fans of the series. Its also a good one for those new to hidden object games and may not challenge the seasoned players.

- by Meryl
Related Games
If you like Dream Day Wedding: Married in Manhattan game, you may also like...