Daycare Nightmare: Mini-Monsters
Monsters love their babies, too! That's why they need a first-rate daycare center. in addicting Daycare Nightmare: Mini-Monsters Game
System Requirements
OS: Windows XP/Vista
Processor: Pentium III 700 MHz
Memory: 128 MB
DirectX: 7.0 or later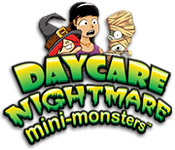 Daycare Nightmare: Mini-Monsters Game Description
Monsters love their babies, too! That's why they need a first-rate daycare center in Monster Town. Help Molly tend to cooing ghost babies who scare their friends when they get mad (stock up on diapers!), adorable little witches who play foul tricks on their playmates when they don't get their way (hide and seek, anyone?), plus sweet mini-mummies, burly baby kongs, ferociously cute werewolves and cuddly blobs. Happy monsters mean bigger tips, sad monsters mean mayhem!
Daycare Nightmare: Mini-Monsters full version features include:
Dynamic play - no level is the same twice!
Changing world - never get bored playing in the same setting over-and-over!
Build your future - grow your own business as you build your center!
Grow and expand - amass a wealth of power-ups!
Daycare Nightmare: Mini-Monsters Game Customer Reviews
Loved the first one, Love this one too. Some familiar faces as well as some new characters which bring with them new challenges. Keep up the good work.

- by kitty20953
Over all I like this game. It doenst have that last appeal as some games do. I like it in the fact it is differnt. You can really take care of monsters and have Halloween all year long. The graphics are the best in this one. I like how you can click on more then one thing at a time. ...The graphics are like the pretty much. You are more in a town setting here. Now in fright ville :P. Well, I hope this helps people in this reveiw :).

- by spooktacular1031
Related Games
If you like Daycare Nightmare: Mini-Monsters game, you may also like...