Magic Farm
Create your very own Magic Farm! in addicting Magic Farm Game
System Requirements
OS: Windows 2000/XP/Vista/7/8
CPU: 600 Mhz
RAM: 128 MB
DirectX: 7.0
Hard Drive: 44 MB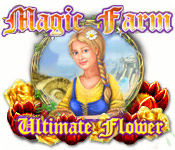 Magic Farm Game Description
In Magic Farm you take on the role of a savvy young entrepreneur with a magical green thumb. Grow a variety of flowers and fruit in this enchanting new Time Management game. Sell your flowers separately or make beautiful bouquets for maximum profits! It`s up to you to water, protect, and sell your cash crop in order to save your beloved parents.
Magic Farm full version features include:
Deep involving story.
Get help from a cute dragon.
Save your beloved parents.
Funny Pests And Monsters To Conquer!
Magic Farm Game Customer Reviews
I thought this was a continuing chapter to the first but I'm not too sure. Initially I was a little dissapointed until I played more and saw just how much they improved it. The graphics are so much better, you get all kinds of bonus items from killing the bugs, as well as new items to buy from the amount I got to play. I think I may have to load the original again.

- by DesertKaat
This is a great sequel! I enjoyed the various task and found the game challenging. It is very similar to the first game, but there are a few changes.

- by aliciamq
Enjoyable sequel, however, doesn't give much new to the actual game except a new story and couple new features regarding the farm. Actual playing is exactly the same as in the previous game. This game will be a big disappointment to those who never liked Magic Farm in the first place but for those who loved the original, will have fun hours after hours. Personally I've always loved sounds in this game as well as the little helper so I can say I enjoyed the trial.

- by Gwindy
One of my favourite games. Lot's of challenges and a great game to play. There are no mini-games throughout this game, which I personally pefer. At times you travel from farm to farm collecting requirements from the characters involved in the story. I would recommend this game.

- by ILuvChoc
The thing I like the best is the fact that you can switch between the different locations of the playscenes. You have to figure out where to get an item you need for another location. The thing what is special too is the fact that you can choose eitherway to selll your flowers in a bouquet or sell them as a flower. Which do you need to get to the next level, and which do you need to get more points. The cute little dragon is fun. Perhaps you can make more little dragons in Farm Magic 2. I think I will buy that too.

- by peperbuske
Related Games
If you like Magic Farm game, you may also like...