Delicious: Emily's Hopes and Fears Collector's Edition
Join a father on an epic journey to save his little girl's life! in addicting Delicious: Emily's Hopes and Fears Collector's Edition Game
System Requirements
OS: Windows XP/Windows Vista/Windows 7/Windows 8/Windows 10
CPU: 3.0 GHz
RAM: 512 MB
DirectX: 9.0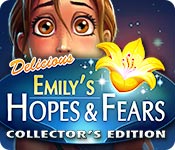 Delicious: Emily's Hopes and Fears Collector's Edition Game Description
Delicious: Emily's Hopes and Fears takes you on an adventure like no other before... During the hottest summer of the century, Paige fights to survive a mysterious disease. While Emily stays unwaveringly by her struggling daughter's side, Patrick embarks on an epic journey through the blistering cold in search of the only cure: a magical flower... Can he save his little girl?
Delicious: Emily's Hopes and Fears Collector's Edition full version features include:
Enjoy the 12th season of the Delicious time management game series.
Complete 65 challenging yet curiously relaxing story levels, plus 32 extra challenges.
Jump into an amazing adventure, and help Patrick find the magical flower.
Help Emily hold on to hope in times of uncertainty and fear, and collect presents to cheer up Paige.
Game Screenshots
(click on Delicious: Emily's Hopes and Fears Collector's Edition game screenshots to zoom)
Delicious: Emily's Hopes and Fears Collector's Edition Game Customer Reviews
I love this game. I love the whole Delicious series of games. I was happy to say that this one was a bit more challenging than the previous games, which I am happy about. Love it.

- by minminandmama
I've only played the first hour so far and I love it! This series NEVER disappoints. Gameplay is similar to the previous edition, however, the story line and scenery is a little different. I love that we get to see other parts of Snugford! I've been playing since the 1st edition just to follow the story. Every edition to the series gets better and better! Emily has become apart of my family and I can't wait to see what else is in store for Emily and her family! This is a MUST buy if you love the series.

- by EbonyPlayer
Delicious: Emily's Hopes & Fears may be a little discordant in tone, but its gameplay is as rock-solid as ever. It's a textbook example of everything fans of time-management love about the genre... quick, clever, and challenging across its many levels and beautiful locations. Though it may look cute, it pulls no punches with its levels, and will keep you occupied with hours. The Delicious series is easily the reigning queen of the time-management genre, and while Emily's Hopes & Fears might be a little grimmer than you'd think, it's still got all the heart and drive behind it to make every moment you spend on it worthwhile.

- by Jayisgames
As soon as I saw it I bought it. Other reviewers have said it all. I am not who usually gets caught up in the story lines but these Delicious Emily games make me laugh and have me anxiously waiting for the next installment. If you are a TM lover and haven't tried the series, it's worth giving it a try.

- by KITTYKAT360
This is a great Delicious game. It is standard Emily but with a few twists. Paige has a weird blue chicken pox thing going on and Patrick has to make his way to a monastery to find the cure. The monastery level is not easy by the way!

It's a great addition and makes you want more! I guess the Collectors Edition has wallpapers and an extra level. It's kind of strange to play a game revolving around a sick child but it's done well and very cute! Lots of humor in it too!

I bought this a while back and have replayed it twice now to try and get through those monastery levels!!

- by mkastor
Related Games
If you like Delicious: Emily's Hopes and Fears Collector's Edition game, you may also like...