Alice Greenfingers
Build your own garden of flowers and vegetables with Alice Greenfingers! in addicting Alice Greenfingers Game
System Requirements
OS: Windows 2000/XP/Vista
Memory: 32 MB
DirectX: 3.0 or later
CPU: P2 300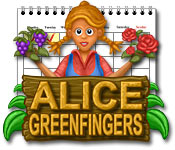 Alice Greenfingers Game Description
Step into the gardening business in this intriguing simulation game, where you build and decorate your own garden of flowers, animals and vegetables. Follow the market trends, get to know your customers and serve ripe crops down at the town market to expand and get your business profitable. Harvest many different crops and enrich your land with animals as you earn more than 10 special awards. Design your garden the way YOU like it with Alice Greenfingers!
Alice Greenfingers full version features include:
Design The Garden The Way YOU Like It!
Harvest Many Different Crops!
Enrich Your Land With Animals!
12 Awards To Win!
Alice Greenfingers Game Customer Reviews
Alice Greenfingers is a fun farm-management game. The object is to grow and sell produce to meet specific goals. It's untimed, making it easy and relaxing. However, that doesn't mean it's not challenging! As the game progresses new types of products are introduced, requiring more resources. It gets very addicting as you plan out how you're going to meet your goals and try to maintain your farm. It is still slow enough in the beginning stages, however, to keep younger kids entertained, and has enough levels to keep older kids and adults interested.

- by nene_mac
Alice Greenfingers is the cutest and most fun game I've played in recent memory. It's not terribly sophisticated, but it's oddly addictive (as Suzanne said). This game allows you to be more creative in the way you design your farm than any other time management game I know of. By the end of the demo, I had accumulated a lot of money, but little time to spend it. I wish that were the case in real life.

- by Leah
Ran fine on my ancient computer. Fun, easy to learn, with enough variety not to get boring. Nice, calming music. Should appeal to anyone aged 8 to adult.

- by bamaslama150
Related Games
If you like Alice Greenfingers game, you may also like...