Dreampath: Curse of the Swamps Collector's Edition
Can you fight mother nature? in addicting Dreampath: Curse of the Swamps Collector's Edition Game
System Requirements
OS: Windows XP/Windows Vista/Windows 7/Windows 8/Windows 10
CPU: 1.6 GHz
RAM: 1024 MB
DirectX: 9.0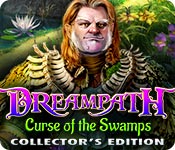 Dreampath: Curse of the Swamps Collector's Edition Game Description
Boolat Games proudly presents the next installment of the Dreampath series! A mystical rain is turning everyone into frogs! As part of the royal family, you can fend off the illness, but for how long? It's up to you to find the cause of this wicked weather and save your loved ones. Can you discover the cure before it's too late? Find out in this breathtaking hidden-object puzzle adventure!
Dreampath: Curse of the Swamps Collector's Edition full version features include:
Embark on a fantastical adventure in another world in the bonus game!
Find morphing forest spirits
Consult the comprehensive strategy guide
Earn achievements and replay mini-games and HOPs
Includes wallpapers, soundtrack, concept art, and more!
Game Screenshots
(click on Dreampath: Curse of the Swamps Collector's Edition game screenshots to zoom)
Dreampath: Curse of the Swamps Collector's Edition Game Customer Reviews
I hate to admit it but I do enjoy fantasy games and this one is quite good. I love finding frogs scattered throughout the scenes then realizing that they were once human members of the realm who have been affected by the swamp fever. I guess this princess is just going to have to work quite hard not only to save the family but to restore all of the frogs to their original state and save the kingdom as well. I actually think the storyline is quite creative and the game is very well-designed. I am sure many of you will love the beautiful graphics as you move from scene to scene. I knew after playing the beta for the game that this would be one I love and have to add to my gaming library. As always, I recommend that you try the demo to see if this is a game you will enjoy.

- by biscuitsmama
After the introduction, I wasn't sure I wanted this game, since the main characters were too pretty. However, after playing the demo, I was hooked. Great story line with a satisfying ending. Loved the bright fantastical graphics, especially after playing some pretty dark games. The bonus game was cute and connected very well to the main game. The map feature was very helpful. The voices were pleasant and the puzzles were an interesting mix. Wish there was just a bit more bonus content.

- by karenmusik
Overall: Five Plus! Beautifully developed game with exquisite scenes, entertaining tasks and interesting and fun characters. Another ¡°Five¡± for Boolat! This is a great game for the entire family. Welcomed change from macabre and sinister themes.Sound and music fit the scenes and were enjoyable. And, I didn¡¯t even have to kiss a frog! The story moves forward with ease and continues with surprise locations and enjoyable tasks.The voice overs were excellent and graphics are one of the best.The bonus game is very whimsical and cute.This is a game that you just don¡¯t want to end.

- by Yurnmesis
Well I must say that I have (and still am) enjoyed playing this one..........and I did purchase it! I always play in Custom Mode so that I can make the gameplay as hard as possible........therefore there are NO hints whatsoever! However I did find that some of the puzzles, even in the hardest mode, were far too easy to solve. There are quirky creatures that pop up from time to time which you can collect. The graphics are excellent, the music is good, and the bird noises are brilliant.....especially the cuckoo. The game has a fun element to it, and overall I find the game to be enjoyable in passing a few hours!

We all have different tastes and views on games, but this one, in my view, is great!

- by poggyapoo
Related Games
If you like Dreampath: Curse of the Swamps Collector's Edition game, you may also like...