Rhianna Ford & The Da Vinci Letter
Travel to Rome with Rhianna! in addicting Rhianna Ford & The Da Vinci Letter Game
System Requirements
OS: Windows XP/Vista
CPU: 1.0 GHz
RAM: 512 MB
DirectX: 9.0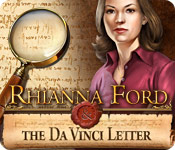 Rhianna Ford & The Da Vinci Letter Game Description
Travel to Rome with Rhianna Ford, and confirm the authenticity of a still sealed letter allegedly written by Da Vinci! Cornelius Blake has demanded that Rhianna pack her things and head across the Atlantic to test the ancient letter. Use your Hidden Object skills to help Rhianna discover the truth about the letter, and keep her job! Explore beautiful Italy in Rhianna Ford and the Letter from Da Vinci!
Rhianna Ford & The Da Vinci Letter full version features include:
Gorgeous graphics
Immersive atmosphere
Explore gorgeous Rome!
Rhianna Ford & The Da Vinci Letter Game Customer Reviews
This game was well designed, very interactive, interesting, and even suspenseful! The ending was a big surprise! I enjoyed the various mini-games, some were quite original. Some hidden objects were so small that it was difficult to locate them. However, the hint button recharges fairly quickly and there is no penalty for using it. I had at least 6-7 hours of playtime, definitely worth the price!

- by IYBAKH
I thoroughtly enjoyed playing this one! The HO scenes are beautifully rendered and the objects are cleverly hidden within each scene. Some of the HO are tiny but not small enough to be difficult to find and they're in plain sight. The game is untimed and there are no penalties for clicking around. Hints recharge fairly quickly although I didn't find the need to use them too often. A little patience and the use of grey matter usually did the trick. Be warned though: there is a lot of dialogue to wade through and I didn't find all that talking to be that beneficial to the gameplay itself.

This one is worth taking a look at and more of the same from this developer would be welcomed.

- by PipCat
As far as HO games go this one had a great story line (I usually skip those, but this one was really good:) It wasn't a game I wanted to play non-stop, but it was nice to come back to and play a little bit at a time. It's not frustrating at all...they give you enough clues to keep it smooth.

- by JMsax
HOGs will never change, LOL: they always task you with finding weird items in the least expected places: a life buoy on a Plaza (with that global warming, floods tend to occur more frequently - good thinking ! ) next to some dynamite. DYNAMITE ? In the middle of Rome ? Want to replace the ol' Coliseum by a skyscraper ? Tooooo funny ! But, luckily, there are not too many "weirdies" in this game. So, explosive this Da Vinci Letter ? Not quite. But nice ? Oooooooh yes ! A good mixture of HOG with a long criminal investigation a la Nancy Drew or JPWMC plus plenty of well-chosen minigames plus a high amount of interacttvity. The graphics are neat, clear, classy, very pleasant to the eye. The plot is clever and holds the road quite well with plenty of details (I, too, liked the babysitter bit), the dialogues always fall quite a propos and the storyline is well worth following from A to Z. I enjoyed all the puzzles even though they're classic and easy. But what amazed me is that this game managed to get me into having fun finding the listed hidden items (even all those that serve no purpose whatsoever), as I didn't have to goggle at my screen for hours on end asking myself "Where on earth did they put that butterfly ?", and as there are only 12 of them per HO scene, which, for me, is just the right maximum. Eight hours of pleasure, not one second of boredom, not one single cause for irritation. 4.5 stars from me....ooops, it's either 4 or 5, OK 5 and I am looking forward to a sequel.

- by Shang
This is the best, so far, of the HOG games I have purchased. So many nice touches. I especially appreciated that hidden items were kept at a reasonable perspective - it messes with my mind to find items gigantic or miniscule in relation to their surroundings.

- by marymmm
Related Games
If you like Rhianna Ford & The Da Vinci Letter game, you may also like...