The Treasures of Mystery Island: The Ghost Ship
Save a tropical island! in addicting The Treasures of Mystery Island: The Ghost Ship Game
System Requirements
OS: Windows XP/Vista/8
CPU: 1.6 GHz
RAM: 256 MB
DirectX: 9.0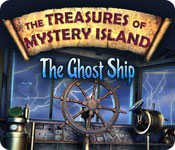 The Treasures of Mystery Island: The Ghost Ship Game Description
Track down a friend who has disappeared on a tropical island! As you explore lost temples, devastated coastlines, and abandoned villages, you'll uncover a 60-year-old mystery surrounding a shaman and his efforts to save his island in The Treasures of Mystery Island: The Ghost Ship. Collect cleverly Hidden Objects, solve cunning puzzles, and help the shaman stop fate in its tracks before a deadly tidal wave rises up from the sea and wipes out his people!
The Treasures of Mystery Island: The Ghost Ship full version features include:
Game Screenshots
(click on The Treasures of Mystery Island: The Ghost Ship game screenshots to zoom)
The Treasures of Mystery Island: The Ghost Ship Game Customer Reviews
WOW! This game is absolutely amazing! The graphics are so beautiful and clear and the opening is so life like. I LOVE this game. It has everything one is looking for in a great game. Some of the objects can be hard to see, but the hint resolve any issues. Widscreen,sound,music adjustments. I can't find anything wrong with this game. I think it's all that and a bag of chips. lol Don't pass up trying this one. This is definitly a buy, play, play again,, happy happy happy. lol Doing my happy PIG dance. lol

I'd rate this: FINE SWINE

FINE SWINE: Great game. Bells and whistles, best, greatest, I love it.

- by LovetoMissLisa
This is the only game I've purchased so far this year. If that's not a recommendation, I don't know what is! The Ghost Ship plays like an adventure game. There are no traditional hidden object scenes. You only search for what you need. The puzzles are clever and the game really makes you think, without being too frustrating. You really feel a sense of accomplishment as you figure things out. You don't pick up inventory items just to use them right away. The scenes interactive nicely with each other and the game feels very intuitive. I love the non-linear gameplay and the graphics are gorgeous and top-notch. The storyline is very creative and I like the sci-fi twist. I usually hate FROGS and the fragmented objects can be a little dark and tucked away, so I did have to wait a few times to use the hint button, but since most of the game is inventory and puzzles, it was only a small inconvenience for me. I played in expert mode and would say the game is about 5-6 hours long, which is excellent for a casual game, and I definitely plan on replaying. This game is lots of fun and a real winner!

- by jaylee1204
I am totally loving this game! The Treasures of Mystery Island series of games has yet to let me down. These are the benchmark that all FROG games should be measured by (especially the first and this, the third, installments). This game is different from others in the series in that you don't have the usual two main characters but you don't miss them, the game is that good. Fantastic fun, no hand-holding and you have to roam and search and think - perfect fragmented objects which in my opinion are not too small (if fragments are too big the FROGs are boring in my opinion) and are no smaller than the ones in the Dark Parables games - plus the graphics are better in the Mystery Island games and therefore the fragments are easier to find. The story line is fun and interesting, the graphics are very good, it is a nice long game and it is another winner in a very fun game series. I highly recommend this one.

If you like this series or if you love good IFROGs - this game is a must have. Fun, fun and a really good length of game play!! Another knockout by one of Alawar's game studios.

- by shadowfax44
Related Games
If you like The Treasures of Mystery Island: The Ghost Ship game, you may also like...