Facility 47
Escape an isolated Antarctic research facility. in addicting Facility 47 Game
System Requirements
OS: Windows XP/Windows Vista/Windows 7/Windows 8/Windows 10
CPU: 1.0 GHz
RAM: 512 MB
DirectX: 9.0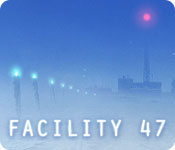 Facility 47 Game Description
After waking up alone in an icy cell, you find that you've been left with only a letter and a bottle of pills. To find out how you got here, you'll have to escape and begin a journey through an isolated research facility in the freezing depths of the Antarctic. Solve puzzles as you go and unlock new locations around the Facility. As you explore, you can search for clues that will help you piece together the mysterious history of Facility 47 and how exactly you came to be there!
Facility 47 full version features include:
Unravel a dark and intriguing mystery
Beautiful and breathtaking hand drawn artwork.
Enjoy brain-scratching mini games.
Captivating music score
The ambient soundtrack and sound effects both add to the desolate feeling of the place
Facility 47 Game Customer Reviews
I was amazed how a non-Hidden objects Game can draw me in and mesmerize me, all the things to do was so "Fun", and the Hint helped me through it all Loved this game Please more games like this its fun Thank You for finally constructing a game which when you ask for a Hint they actually "Hint" you the right way. Snow scenery was awesome the ending was GREAT make me want to play it again cant wait ...... to see what "That's" like :)

- by Ladyklee
This game leaves it all up to you to figure out how to escape Research Facility 47.

Hand-holders beware, there is no map, sparkles, journal, or dialogue to assist you on your journey. If you want any of these things, this isn't the game for you. I enjoy exercising the brain, and trying to piece together puzzles and information.

There is a hint option, which I used during the demo, just to see what it was like. I wish it was a more progressive hint system, rather than just spitting out the answer as it did for me with the one time I used it. Be sure to have a pen and paper handy to keep track of information that may be important clues along the way, otherwise you'll have to trek back to find the clue again. Other than that, this game has really nice graphics, and the story makes you want to continue on to try and figure out what happened in this desolate place.

I highly recommend that you demo the game and try it for yourself!

- by Justy1002
This is definitely a game worth playing, if you are looking for a new point-and-click adventure escape game. The atmospherics are spot-on, from the visuals to the sounds. The puzzles and mini-games are varied and tricky enough to get you really thinking. Without being unsolvable! And if you do get stuck, the hints system is very useful. In giving you solutions or to guide you to the next action required.

An all-in-all, Facility 47 is an excellent ¡®cool¡¯ escape game for computer or mobile players!

- by rgamereview
Related Games
If you like Facility 47 game, you may also like...