Fall of the New Age
Uncover the secret conspiracy of the Cult! in addicting Fall of the New Age Game
System Requirements
OS: Windows XP/Windows Vista/Windows 7/Windows 8
CPU: 2.5 GHz
RAM: 2048 MB
DirectX: 9.0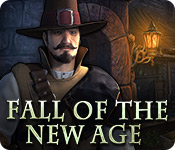 Fall of the New Age Game Description
In the dark times of the Medieval a baleful society of the Cult and its adherers strived to seize the rule over the city, control its inhabitants and destroy all sources of knowledge and culture. Help Marla uncover the secret conspiracy, release her kidnapped brother and save the city! Solve numerous quests and puzzles, display courage and wit, and don't let the Cult take control over the Kingdom!
Fall of the New Age full version features include:
Original medieval world
40 exciting locations
Dozens of tricky mini-games
Amazing cut scenes and 3D reels
Ability to disguise the main character in different costumes
Fall of the New Age Game Customer Reviews
This is fantastic. Scenes that pan with cursor and incredible graphics. Story/Plot is different too. You are a theif named Marla with a knack for lockpicking and using slingshot. When you are detaned in the cell, after being caught stealing the silverware, it all begins to draw you in. Witnessing a ritual sacrifice of a cult called the brotherhood, who kidnaps your brother, is where your quest starts. I have never played such an adventure!!! Lots to do with inventory, puzzles, and HO's which are not typical. I think the object is a rescue but I am stuck at the symbols part of the game. I continue to play hours..HOURS! I love it.

- by skullfun
This game is incredible fun. So happy I bought it. It reminds me of the PC RPG's. Love the story and the interaction. The game play is just enough of a challenge, for me anyways. One of the best i have played. Have gotten tired of the same old same ole. A unique story that you feel you are part of. Not to many HOG's just enough, puzzles,,,,challenging but not enough to frustrate you. I am an intermediate player so take that into consideration. It may not be for the more advanced players. I found it refreshing.

- by tuzieq
Related Games
If you like Fall of the New Age game, you may also like...