Treasure Masters, Inc.
Embark on a globetrotting adventure to unearth an amazing artifact! in addicting Treasure Masters, Inc. Game
System Requirements
OS: Windows 2000, Windows XP, Windows Vista
Memory: 256 MB
DirectX: 9.0 or later
CPU: P 1.0GHz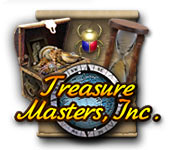 Treasure Masters, Inc. Game Description
Join Gordon Jones on a globetrotting adventure to unearth an amazing artifact from the bowels of a lost ship. As Gordon and his grandfather race to the treasure with their enemies in close pursuit, you'll take on exhilarating object hunting challenges, solve dozens of ingenious puzzles and play relaxing mini-games. Along the way, you'll become wrapped up in a captivating story, learn about the secret world of treasure hunters and enjoy scene-after-scene of spectacular artwork!
Treasure Masters, Inc. full version features include:
Follow The Captivating Story Of Gordon Jones!
Tons Of Challenging Puzzles!
48 Globetrotting Levels!
More Than 10 Mini-Games!
Treasure Masters, Inc. Game Customer Reviews
One of the best HOGs I've played. Great puzzles, and timed mode is challenging. I liked that puzzles had to be solved to obtain items, that were in turn used to find other items or solve other puzzles, often in different locations. The ending was a little abrupt, but does imply a sequel.

- by arcadiarose
I love the seek and find games and this one is exceptionl because it includes puzzles too. If you liked Mortimer Beckett And The Secrets Of Spooky Manor you'll like this one. Excellant story line, lot's of fun. A definate BUY.It makes you move from room to room to complete the puzzles.And you have to find things for your inventory to use on other items. Great fun and very well done.

- by diza11
I have to admit that I found most hide and seek type games boring and kind of pointless. This one adds some puzzles and mini-games which makes it much more interesting. I guess some people kind it too hard but I enjoy the challenge.

- by jimbow
Related Games
If you like Treasure Masters, Inc. game, you may also like...