Final Cut: Death on the Silver Screen
Save your brother before the final cut! in addicting Final Cut: Death on the Silver Screen Game
System Requirements
OS: Windows XP/Windows Vista/Windows 7
CPU: 1.4 GHz
RAM: 1024 MB
DirectX: 8.0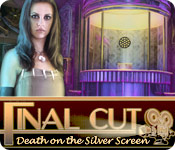 Final Cut: Death on the Silver Screen Game Description
Unravel the mystery of your father's death and brother's bizarre disappearance in Final Cut: Death on the Silver Screen! Your father was a famous movie director who liked to invent elaborate locks and devices. A mysterious villain demands you track down the pieces to his greatest - and perhaps most deadly - invention of all time! If you don't, your brother will suffer the same fate as your father. Return to the family Art Deco mansion and golden era movie backlots to look for clues about a past you never knew your father had - and the dark secrets behind the villain's quest for his deadly invention.
Final Cut: Death on the Silver Screen full version features include:
Fantastic gameplay
Stop the villain before the final cut!
For a more in depth experience, check out the Collector's Edition
Final Cut: Death on the Silver Screen Game Customer Reviews
Final cut is a great game to play, the graphics are well made and the HO scenes are the way it suppose to be, cluttered, of course! but in a friendly HO kinda way, the objects are well defined, some objects need extra action taken in order to find them. There are puzzles, not to hard but not to easy either, you gotta use the think-box of yours in order to solve them.

The music is good and does not taking over the game, it's a great background music for the atmosphere of this game. The voice overs are OK, cutscenes are OK too, one thing I did not find the logic behind was when the characters talk to you then turn from real actors to animation, I did not see why they had to do it, if you already have an actor playing might as well let them do the whole thing, but that's me

This game praises you for finding items. it's a good concept for some. You get awards if you find objects fast, if you do not click the hint button and also you have extra items you gotta find, pictures and cards. The creators of this game made it in order for people to enjoy playing this game, and it's noticeable, they did a great job!

- by soul4ever
This is one of the best games of the year!! I loved everything about this game and I am very sad the game is over. I loved the story even though it was a little cliche but it was well played out. There was so much to do, not too much walking and there was a map if you needed it (although you get an achievement if you can play the whole game without checking the map). I loved this game because you were playing the game, collecting items ( and not just one item but two and there was a mystery item, so three total!!) and obtaining achievements. The HOG's were just the right amount and not too cluttered. The mini-games ranged from easy to a few headscratchers but all of them were fun. The game was just hard enough. You never had too many items in your dock at one time. All of the scenes were very clear, lots of little details, and real people!! Wow, wow, wow. Oh, the bonus game was pretty good, it was longer than most and was fun so I definitely recommend the CE.

- by bubbyc
With a believable and well-paced story line, stunning visuals and nice music, Final Cut is definitely the best HOG i've played in recent time. It really draws you into the story and makes you feel you are the main character. The game is full of surprises. The puzzels never get dull and actings are great. There aren't too many HO scenes, which I like the most. Conclusion, it's pure fun playing the game. Big thumb-up to the development team.

- by VenusAyaka
Related Games
If you like Final Cut: Death on the Silver Screen game, you may also like...