Fireworks Extravaganza
Light up the sky with this fantastic shape-matching puzzler! in addicting Fireworks Extravaganza Game
System Requirements
OS: Windows 2000/XP/VISTA
Memory: 128 MB
CPU: P 600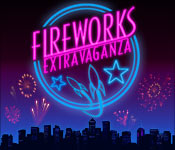 Fireworks Extravaganza Game Description
Light up the sky in the world's most famous cities with this fantastic shape-matching puzzler! Fill the fireworks with the correct shapes to launch them into the night. Score bonus points for using all the same color, for filling your firework in record time and for filling one firework completely before starting another. It's a magical celebration every day of the year with Fireworks Extravaganza!
Fireworks Extravaganza full version features include:
A Bright Lights, Exploding Puzzler!
Stunning Graphics And Explosions
Tons Of Levels To Light Up!
Explore The World!
Fireworks Extravaganza Game Customer Reviews
What an amazing puzzle-inlay game!! After you fill in all the puzzle pieces, the board explodes with an amazing firework display. You play in several different locations across the world. Great game for the July 4th weekend!!

- by tentoes
The graphics in this game are really good and the fireworks are just amazing!!!Sound is also really good like when the fireworks are like exploding and stuff its like ur really there...gameplay is simple you like do some stuff or something(i can't really describe it)and overall its a pretty good game cuz i like fireworks very much !!!!And eventhough i don't like puzzle games very much this is really good!!!

- by Martinx
Related Games
If you like Fireworks Extravaganza game, you may also like...