Mosaics Galore
Solve the puzzle and save the magical pets! in addicting Mosaics Galore Game
System Requirements
OS: Windows XP/Windows Vista/Windows 7/Windows 8
CPU: 1.0 GHz
RAM: 512 MB
DirectX: 9.0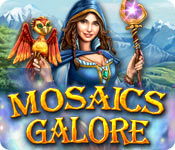 Mosaics Galore Game Description
Build beautiful mosaic puzzles with an enchanted sensibility. The magical pets have been caged! Follow the trail and find the predator that committed this audacious crime. Play through 120 unique levels in six wonderful and unexplored worlds. Collect the puzzles, rescue the magical pets from the tenacious claws of the crafty thief and free the pets in Mosaics Galore!
Mosaics Galore full version features include:
Fantastic animals and scenes of a magical world
Numerous achievements
Save the magical pets from captivity!
Play and replay more than 100 original levels
Mosaics Galore Game Customer Reviews
This is a really fun game that other reviewers have given a low rating to simply because of the timer. To continue on to the next puzzle, you don't need to complete the puzzle within the time frame. However, if you are a perfectionist, like I am, you will want to and there are a couple of ways to do it. First, use the hints at the top of the screen. It refreshes about every 30 seconds so you don't really need to buy hints. Second, pay attention to the corner pieces. They are the easiest to place. Third, play each puzzle through once or twice to see where the pieces fit. An added bonus of doing this is that you will earn coins which will allow you to buy time to finish the puzzle once you know where the pieces go. It's really not that hard to complete the puzzles within the time frame, I'm about halfway through and am enjoying each and every puzzle.

- by Crazy4games
okay, it starts out really easy and you think this is child's play then it kicks in and you are starting to panic...luckily you can redo any level and even restart if you are like me and "accidentally" drop a piece in the wrong spot. That's my story and I'm sticking to it...LOL. Also when you redo it changes the pieces so sometimes it's easier, sometimes not. A definite buy for me!!

- by isis1313
This is a lot different than the "mosiac" type puzzles. This actually reminds me of the old wooden puzzles we had when I was little. The pieces are random shapes and colors that you must beat the clock to complets the picture. Overall this is an awesome game for the whole family. I loved this one!

- by pdmorrison
I love this game. I am not very good at it but that is why I like it. The puzzles are so much fun...the artwork is glorious and it is sooooo different than everything else out there . Great game. Lots of fun.

- by colorsplash
Related Games
If you like Mosaics Galore game, you may also like...