FishCo
Raise fish with FishCo! in addicting FishCo Game
System Requirements
OS: Windows XP/Vista
Memory: 512 MB
DirectX: 7.0 or later
CPU: P 1.0GHz
Video: 32MB Video Card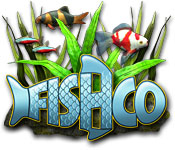 FishCo Game Description
You and your business partner, Tracy, own an aquarium shop where you must breed and raise freshwater fish to sell. Progress through 40 exciting levels in Action Mode, or play at your own pace in Relaxed Mode, while you unlock new fish and plants, upgrade filters and lighting, and purchase food and medicine to keep your fish healthy and happy! There's also Sandbox Mode where you can customize your own tank! With FishCo, you are well on your way in the world of professional fishkeeping!
FishCo full version features include:
20 Unique Fish To Breed And Sell!
40 Exciting Levels In Action Mode!
Play At Your Own Pace In Relaxed Mode!
5 Different Tanks To Play With!
FishCo Game Customer Reviews
A really great game. Nice hybrid of "Fish Tycoon" and Time Management. Challenging w/o being frenzied, which I think many people will like. I thought the graphics were very nice, and liked cute touches, like flushing dead fish, complete with toilet sound effects. So nice to see something new in the game world!

- by arcadiarose
Wow! A time management game that is relaxing! That is an oxymoron, but its true. I don't even like fish, but I found this game quite enjoyable. A difference to me that makes this a much better game than Fish Tycoon is that this game has goals you must meet. Highly recommended.

- by carfixer1957
This is a great game. The enviroments and the fish info is much more relistic then other fish tycoon. Graphics are great and the music relaxing.

- by vegan114
Related Games
If you like FishCo game, you may also like...