Flux Family Secrets: The Ripple Effect
Fix time in this Hidden Object game! in addicting Flux Family Secrets: The Ripple Effect Game
System Requirements
OS: Windows XP/Vista
CPU: 1.0 GHz
RAM: 512 MB
DirectX: 7.0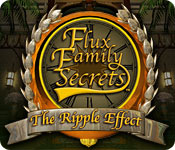 Flux Family Secrets: The Ripple Effect Game Description
New Treasure Chest: Felix's Favorites Game! A mysterious family has contacted you and holds the secrets of your past! Fix the errors in time in this exciting Hidden Object game and take your rightful place in the Flux family! Explore famous historical sites like Hatshepsut's tomb, the Wright Brothers' workshop, Benjamin Franklin's study and many more. Flux Family Secrets: The Ripple Effect has you realign the timeline by finding misplaced objects scattered through time and solving clever puzzles.
Flux Family Secrets: The Ripple Effect full version features include:
Explore historical sites
Solve tricky puzzles
Fix the flux!
Flux Family Secrets: The Ripple Effect Game Customer Reviews
I found this game to be the best of all that I have played so far.Excellent challenges in finding all the objects. Alot of fun, in fact I playing it a second time. Worth playing. Some mini-games are hard and if you skip, you will get a time penalty, but most are fairly easy to figure out.

- by nypitterpat
What a fun game! I have been looking for a full-fledged HOG that isn't all black screens and click penalties (both liabilities IMO) and sure got what I wanted! Apart from the fact that the game is GORGEOUS, the music perfect and the objects all totally fit the scenes and the themes, it is exactly the right level of difficulty for me. (Could be too easy for some.) Hate to tear myself away before finishing to actually return to real life, but will be looking forward to resuming this really fun game soonest! Great job BFG! A!!

- by Miranda22
Great game. Very well hidden items. Hard to find, but fair. Unlimited hints, unlimited time. I like using items in the screens and the embedded minigames. There is a great variety of minigames, some very easy, some very hard. You can skip any minigame. Well done, clear graphics, fitting music, good storyline. Great replay value. When you play again with the same profile, the order in which the scenes appear varies, and so do the hiding places of the items. I experienced some small technical issues, which did not bother me much. Im glad I bought the game.

- by origami-san
Related Games
If you like Flux Family Secrets: The Ripple Effect game, you may also like...