Fantastic Farm
Help Maggie run her magical farm! in addicting Fantastic Farm Game
System Requirements
OS: Windows XP/Vista/7/8
CPU: 1.0 GHz
RAM: 512 MB
DirectX: 7.0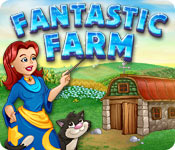 Fantastic Farm Game Description
Help the fresh out of school Maggie run her magical farm! Use a variety of magic powers to grow a small farm into a prosperous enterprise! Care for the animals, grow plants and make enchanted goods in Fantastic Farm! Earn trophy achievements and keep the sinister business man from shutting your farm down. Make ice creams, sweaters, strawberry pies and lots more in this fun and addicting Time Management game!
Fantastic Farm full version features include:
Multiple magical spells
Different animals to care for
Run a Fantastic Farm!
Fantastic Farm Game Customer Reviews
This is as close to Ranch Rush as it gets. Constant action, no waiting around. One thing that's different is on each level the orders come in individually instead of seeing the total you'll need. It makes it hard to plan ahead but that's part of the challenge. It took a few times to pass the last level in part 1, but I as I watched the final orders come up I knew what I didn't have to bother with. I'm on to part 2!

- by cherryrose
In many ways this is your typical time-management farm game. You have to grow crops and harvest animal products and complete orders. The twist with this game is that you have magical powers. In practical terms this affects gameplay very little- instead of a toolbox to fix your broken machines, you have a bag of magic powder to sprinkle on them. That said, the goals are challenging without being impossible, and this game offers quite a lot of gameplay for your dollar. This is not a game to be finished in one sitting. Overall I found it to be quite similar to Ranch Rush. If farm games are not a passion for you, then owning one or the other may very well be sufficient. If you love farm games and can't wait for the next one, you'll probably want both. In any case, this is one of the better farm games on the market, and I'd recommend everyone at least give the demo a try.

- by LH422
This game is almost an exact clone of Ranch Rush. It's a really fun game where you grow and gather food and other things that are ordered by customers. You also have magic. Graphics are good, gameplay is smooth, voice acting is nice. If you liked Ranch Rush you will most likely enjoy this game.

- by LucyS
Related Games
If you like Fantastic Farm game, you may also like...