Glyph
Save a dying world by assembling ancient glyphs in this epic puzzle adventure! in addicting Glyph Game
System Requirements
OS: Windows 2000/XP/VISTA
Memory: 64 MB
DirectX: 8.1 or higher
CPU: P2 400
Video: 32 bit 3D Hardware Accelerated Video Card
Internet: Active Internet Connec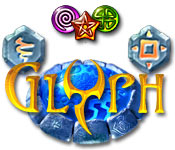 Glyph Game Description
As a descendant of the Elemental Masters, it is up to you to restore the world of Kuros to its once beautiful state by harnessing the powers of Wood, Fire, Water, Metal and Aether. Break through layers of rock by matching Guardstones to uncover the mystery of the Glyphs. With 14 interactive objects, power-ups with 3 boost levels and 125 custom levels, Quest Mode will keep you busy. Action Mode will challenge your skills and reflexes with 130 additional levels to play. Save Kuros, before it's too late!
Glyph full version features include:
Save The World In 2 Modes!
255 Custom Levels In 5 Unique Environments
Assemble Glyphs In The Bonus Levels
14 In-Game Artifacts
Glyph Game Customer Reviews
wow this was fun. great game . graphics were cool . loved the music, just a touch of other worldliness.

- by lilwolfmiss69
Glyph is a very addictive action puzzle game with over 250 levels. The action get frantic as you move through the levels. With Action mode and Quest mode to chose from Glyph is stone-matching, rock-blasting fun!

- by Bob S
This is a wonderful game - addictive, challenging, nice story, music, graphics. It loses a star for me because of the ending. There is no strategy involved - you just play the last level over and over and OVER until, by luck, you get the bomb that allows you to complete it. A let-down to an otherwise wonderful game.

- by ratgirlagogo
Related Games
If you like Glyph game, you may also like...